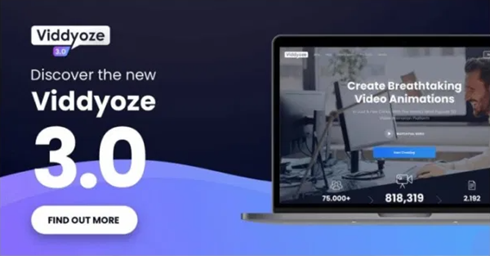 - November 8, 2020 /NewsNetwork/ —
With animated video marketing on the sharp rise, Viddyoze offers a reliable web-based solution to creators.
One of the most crucial instruments for any digital marketing campaign is an animated video advertisement, as it fosters a visual aspect for audience engagement. That's where Viddyoze comes in. An entirely web-based animation maker, Viddyoze recognizes today's high-demand for animated video integration into business strategies. In just a few simple steps, creators can possess a professional animation that's ready to be posted to social media accounts, incorporated onto a landing page, or merged into email marketing campaigns.
Operating on a cloud-based platform, Viddyoze requires absolutely no downloads, so users can conveniently produce and save content online from a Smartphone, desktop, laptop, or tablet. Such versatility allows for easy animation making at home or even on the go; the only prerequisite is an all-inclusive subscription and an internet connection.
Boasting a user-friendly interface, Viddyoze is fully stocked with hundreds of templates and a library of customization tools, so even a user with zero technical experience can build a professional-quality video in just minutes. Viddyoze allows for creating stunning intros, outros, logo stingers, social actions, transitions, movie filters, lower thirds, CTAs, and much more. Even freelancers can benefit from Viddyoze, as it allows for the development of captivating content on-demand.
Anyone can easily integrate Viddyoze into a marketing strategy to generate traffic, drive leads, and improve sales by fostering consumer interaction and engagement. Featuring an animated video on a landing page is a proven tool to increase conversions due to its high potential for lasting impact. In virtually any business realm, a Viddyoze animation entices audiences by presenting compelling content that competitors lack.
Click here to learn more about this video animation software
About Viddyoze
In 2015 Joey Xoto worked alongside software duo David Chamberlain and Jamie Garside to build Viddyoze, a 100% web-based video animation platform. Since its launch, the developers have implemented massive changes that drove Viddyoze to become the leading SaaS web-based 3D animation software globally.
Release ID: 88984820