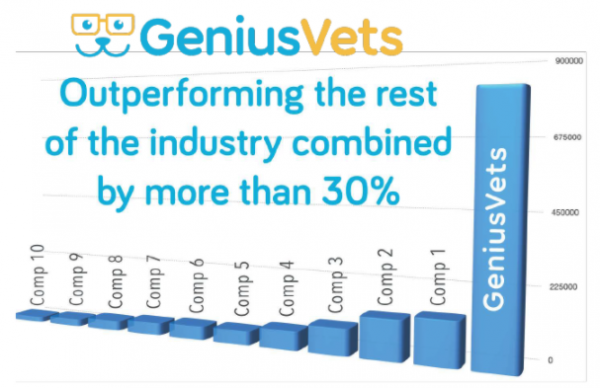 - May 17, 2021 /PressCable/ —
GeniusVets, an online information platform to improve pet health, has launched a full report on who is the top veterinary marketing SEO company in 2021. The report has been created to help independent veterinarians understand the importance of SEO marketing in finding new clients.
More details can be found at https://www.geniusvets.com/veterinary-marketing/blog/secret-our-success-geniusvets-study
The newly launched report is in response to the increased number of pet owners who turn to Google for questions to answers about pets and animal healthcare. It also explains why it has become so important for independent veterinary clinics to rank highly on Google.
The report covers the corporatization of veterinary care, discussing the trend toward consolidating independent practices into corporate groups. As a result, the level of care and quality of service of many practices has suffered compared to the superior services of independent clinics.
The GeniusVets report goes on to discuss one of the biggest problems facing the industry: pet owners using "Dr. Google" to find information about their pets and veterinary care online, rather than speaking to a qualified veterinarian who would be likely to gain that pet owner as a client. Consequently, having a high-ranking website, with effective SEO, is more important than ever.
The aim of the company is to help pet parents find and connect with veterinarians in the area, using a comprehensive set of marketing programs and solutions for success. The new report from GeniusVets demonstrates this with statistics from a recent study measuring the performance of their clients' websites, which showed that their top 10 clients were getting more web traffic than the top 10 clients of their top 10 competitors.
The report from GeniusVets covers essential information about the importance of correctly marketing veterinarian practices to find new clients and provides knowledge to pet owners about their pets' health and animal care.
"First, your website is supposed to attract visitors," states the report. "Second, your website should authentically represent the mission, values, and culture of your veterinary practice. Third, it should demonstrate your expertise and ensure that you become the go-to pet health expert for pet owners in your local area."
Interested parties can find more information at https://www.geniusvets.com/veterinary-marketing/blog/secret-our-success-geniusvets-study
Release ID: 89015891