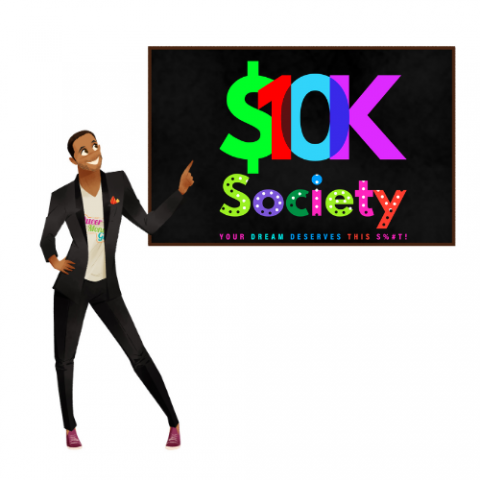 - November 26, 2020 /PressCable/ —
Earlier this week, Leveaux Group, Inc finally announced the release of $10K Society – it's new Entrepreneur Training Program, which has been in development since 2005. Since that time Asa Leveaux has successfully coached entrepreneurs in a number of industries to include but not limited to: makeup industry, health & beauty industry, coaching industry, entertainment industry, non profit industry and government contracting industry. The main aim for the $10K Society is to provide queer identified entrepreneurs a guided roadmap that takes them from a place of confusion and challenges to a new reality of clarity and cash! This entrepreneur training program is transforming those that have consistently felt abandoned to a new place of feeling seen, heard and valued by ensuring that every ounce of the information provided is catered to who they are without pandering or trivializing their experiences…. and it does so, with a difference.
Asa Leveaux, America's #1 EntreQueerNeur Coach at Leveaux Group, Inc, says: "We wanted to try something new with $10K Society. Anyone familiar with the LGBTQ+ Entrepreneurs market will probably have noticed how everyone else seems to not understand one of three crucial points. 1: The LGBTQ2+ community is not monolithic so we all don't only desire instructions on how to be a dancer or how to apply makeup. 2: Business principles will remain constant while the acumen to apply those principles to new industries and opportunities are changing daily. 3: It takes years of experiences to be able to accelerate someone's possibilities. This is a problem because when you lack even one of these crucial points you rob people and their dreams that could be personally affected by what you don't possess or what you don't know.."
So as a welcome breath of fresh air, $10K Society will instill a high level of intention around accountability in each and every level. Thomas Edison said the following: "If we did all the things we're capable of doing, we would literally astonish ourselves." I have seen the majority of programs not have any accountability which can result in a client becoming disillusioned and then disgruntled. Instead, the $10K Society does its best to consider what the client is going through and makes them the focus.. Leveaux Group, Inc chose to make this move because it believes that people should be able to grow their businesses with those that care as much, or more, about their success than they do. They chose to be unique in this way because Asa Leveaux remember what it feels like to give someone his precious money with the belief that they will help him dominate in an industry and realizing that they cared more about their sale than his sacrifice..
Asa Leveaux also said "We give our clients, who eventually become family, more freedom in their lives because they will now have the knowledge and financial resources to restructure their lives which will affect everyone in their lives.. With $10K Society, they have a fresh new possibility. When implementing the $10K Society, I desire for my clients to feel in awe of the clarity that they now have and overjoyed about the payment notifications that have become more frequent and consistent. when using $10K Society. Trying something new is always a risk, but it's a risk we believe is worth taking."
Leveaux Group, Inc has been in business for nearly a decade, being established in March 2012. Since Day 1 it has always aimed to serve decision makers in excellence..
$10K Society launched November 22, 2020.. To find out more, it's possible to visit http://www.10ksociety.co
For further information about Leveaux Group, Inc, all this can be discovered at http://www.leveauxgroup.com
Release ID: 88987357