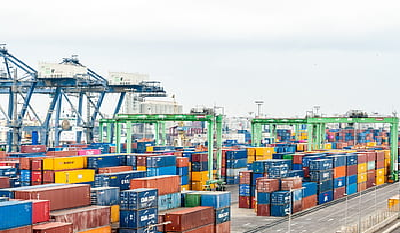 - June 21, 2020 /NewsNetwork/ —
Ventura, CA based Unishippers franchise owner J.P. Budd has been providing Third Party Logistics (3PL) services to small and medium sized businesses for over 8 years. His Unishippers team excels in customer service and enjoys providing logistics expertise and experience to companies who don't already have a dedicated shipping office.
Information about all Unishippers' small business shipping services including express and ground package shipping, LTL and FTL freight, and intermodal service options can be found on the company's website: https://www.unishippers.com/buddlogistics/ .
One of the first questions business owners often ask themselves is whether they even need a 3PL, what they would use a company like Unishippers for, and whether they can afford it.
"Once I show businesses with smaller operating budgets how much my team can streamline their shipping operations, I capture their attention," says Mr. Budd. He explains that getting products out the door keeps his shipping clients happy because their customers are happy. Mr. Budd adds, "and that is the value of having a 3PL like Unishippers that my clients understand."
The cost savings inherent in improved shipping operations makes a clear case for partnering with a 3PL like Unishippers. But this is not the only aspect of working with J.P. Budd and his team that is compelling. Unishippers' focus on customer service combined with a high level of experience-based guidance on optimizing business shipping, leads to increased productivity and revenue for their clients.
One of the things Unishippers does for their clients is work with them to determine the best shipping method for their products and their market. There are many factors other than load volume and frequency involved and each situation is unique, so it's not always clear whether a small business should use LTL instead of FTL. There are advantages of each to consider.
A small business working with a competent 3PL like Unishippers will know that using FTL has several advantages over LTL. For example, because the load does not stop at terminals along the route, FTL transit times are often faster than LTL. Direct costs are lower per pound, and there are fewer issues and claims than LTL because there is much less handling involved with FTL freight.
Unishippers clients will also be made aware of the advantages of using LTL. Every business that ships has encountered times when there is tightened capacity. The LTL network of carriers is much more flexible than FTL with significantly more availability to handle and move customer loads. LTL carriers have assets available for regular routes in most areas, which helps with on-time transit. And Unishippers has relationships with over 65 carriers which dramatically improves their ability to help clients ship under any circumstances.
Third Party Logistics Providers like Mr. Budd and his Unishippers team leverage every advantage they can for their clients. They help them solve and avoid challenges and issues small businesses encounter every day in a constantly changing business shipping environment. The Unishippers team constantly works to improve and optimize their client's shipping process and experience. As Mr. Budd says, "I really enjoy helping clients, and improving their shipping operations is one of the most impactful ways to do that."
Interested companies can review Unishippers services and speak with a logistics consultant here: https://www.unishippers.com/buddlogistics/ .
Release ID: 88964700