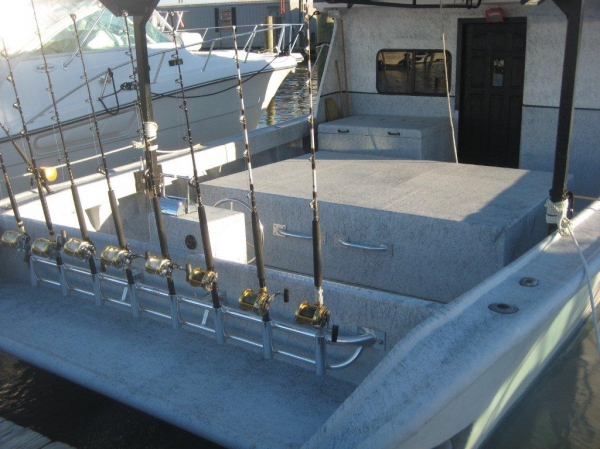 - March 9, 2017 /PressCable/ —
Captain Troy Wetzel – Louisiana Offshore Fishing Charters Prepare For The Spring Fishing Season.
The official 2017 Fishing Season kicked off at the beginning of February. The shrimp and small finfish are migrating into the area, with the larger game fish chasing them. With the migration of fish into the Gulf of Mexico this time of year, Louisiana Offshore Fishing Charters of Venice, LA, has overhauled their fleet. Venice La has been considered one of the best destinations for fishing charters in the USA.
During the off season, Captain Troy Wetzel, owner of Louisiana Offshore Fishing Charters overhauled both of his offshore fishing boats. The two custom charter boats include a 36 ft., Twin Vee with Pilot House, and a 40 ft. loaded Sintes with a large, comfortable Cabin. New paint jobs, adding the latest in fish finding technology, and rigging the boats with the larger, stronger tack needed to land this seasons largest fish.
Captain Troy is an exceptional diver and master spear-fisherman. He obtained his 100 ton Masters Captain's license from the United States Coast Guard. Captain Troy has spent more than 20 years perfecting his skills as an offshore fisherman, fishing guide, and superior spear-fisherman. He holds both state and world records, both personally and professionally from his boat. Captain Troy's goal for every charter is to catch the most fish and the largest fish. Captain Troy has along with him, Captain John Duplass and Captain Andre Boudreau.
Captain John Duplass grew up in South Louisiana. Since he was a small boy, he has been an avid fisherman. In 2014, John became a licensed charter fishing captain. He has worked with Louisiana Offshore Fishing Charters since that time. John fishes both offshore and inshore, and absolutely enjoys sharing his passion for fishing with his clients.
Captain Andre Boudreau was born and raised in South Louisiana. Andre attended and graduated from the University of Louisiana Lafayette in 2008. He returned home and began his fishing career. After fishing on his own for numerous years, Andre began working with Louisiana Offshore Fishing Charters in 2014. Andre has fished the South American and Central American waters, and has competed in and won Billfish & Tuna Fishing Tournaments. Andre is also an avid inshore fisherman, duck hunter, and deer hunter.
Captain Troy Wetzel reports that "Louisiana Offshore Fishing Charters Spring fishing season has begun by fishing the Salt Domes on the East side of the Great Mississippi River, as well as hitting the old rig structures that are holding massive fish. Our Captains have been putting clients on super-sized Yellowfin Tuna ranging from 150 to 190 pounds. We are pleased to report large Wahoo, Amberjack as well as Mako Shark to our daily catch. Mahi Mahi, Blue Marlin, Blackfin Tuna, Red Snapper, Cobia, Amberjack, a variety of Grouper as well as other species of deep water fish are also landing on Charter Fishing Boats daily."
Louisiana Offshore Fishing Charters has been in business for over 25 years and caters to corporate clients, as well as private groups. They specialize in deep sea fishing charters from Venice, Louisiana, as well as guided Inshore Fishing Charters.
Release ID: 176346