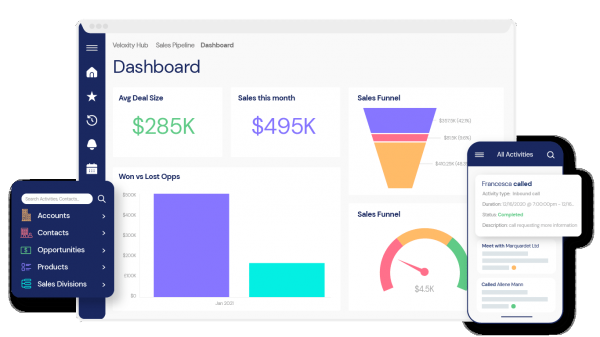 - August 26, 2021 /PressCable/ —
Earlier today, CRM specialist, Veloxity, reached out to officially launch their CRM product onto the market and provide a little more insight into their claim to be 'the new force in CRM'.
Veloxity's new CRM platform takes the simplicity that comes with entry-level CRMs and turbocharges it with the same power that leading platforms provide—all while introducing the most efficient user experience possible.
The platform was designed by machine learning and sales veterans with the goal to produce one of the most intelligent and efficient automated sales and marketing tools available on the market. Additionally, its extendable platform can easily be adapted for the client's specific needs.
With Veloxity's inclusion of innovative charts, its users can easily see their sales activity. Direct data interactions allow users to view and act on important information through the same interface. Now, thanks to Veloxity, users don't have to click on endless screens and menus.
Small- and medium-size businesses can also rejoice! Veloxity's out-of-the-box features allow users to just "sign up and go". Veloxity, unlike its competitors, supports both B2B and B2C companies.
With plenty of CRM options available out there, it comes as a surprise that there are so few which offer their clients personalization features. Veloxity has been developed over the past decade to be scalable with extensible functionality.
And now, thanks to the help of sales and interface design experts, Veloxity is easy to implement, use, and grow. It's completely ready to go, making adoption quick and providing immediate insights into users' businesses.
Veloxity's vision has been realized, and today their platform became available at a much lower cost than other available platforms out there. Now is the time to consider giving sales teams a competitive advantage with Veloxity CRM. The free version is currently available to try today at https://www.veloxity.com/
Release ID: 89043206