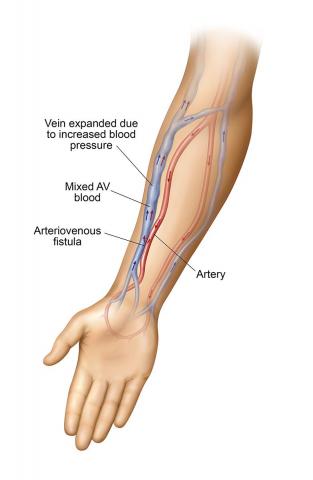 - June 12, 2020 /PressCable/ —
FOR IMMEDIATE RELEASE
Vein Health Clinics Offers Percutaneous Fistula Placement
May 29, 2020 – Vein Health Clinics is proud to offer percutaneous fistula placement for dialysis patients.
A critical requirement among dialysis patients is permanent, effective, and consistent vascular access. For 50 years or so, the usual procedure was to create an arteriovenous (AV) fistula through surgery. In this procedure, a vein and artery are connected to increase blood flow to the vein, helping to facilitate dialysis.
Surgical AV fistulas are known to provide the best results; however, they are not without complications. Studies have shown that AV fistulas fail or are unsuitable 60 percent of the time, requiring numerous interventions to become usable, although it can also take several months to achieve functionality.
Additionally, patients usually have to wait for their AV fistula to be placed surgically, with wait times sometimes exceeding three months. These factors mean that patients undergo extended exposure to central venous catheters which, in turn, can increase the risk of infection and mortality.
For patients with acute or chronic kidney disease (CKD) and end-stage renal disease (ESRD) requiring dialysis, these risks can significantly reduce their chances of survival. Therefore, the arrival of new technology in the form of a non-surgical approach to create an endovascular arteriovenous fistula (endoAVF) has been highly anticipated in the field of vascular medicine, particularly in relation to the provision of vascular access to facilitate dialysis.
Vein Health Clinics now offers this non-surgical alternative in the form of percutaneous fistula placement where two thin flexible, magnetic catheters are inserted in adjacent blood vessels. Under X-ray fluoroscopy, the catheters are inserted into adjoining arteries and veins in the arm — through the radial artery and radial vein, or the ulnar artery and ulnar vein.
The built-in magnets in the catheters attract each other, leading them to snap in place. A small electrode or burst of radiofrequency energy is used to create a channel between the artery and vein, leading to the formation of a percutaneous fistula or an endoAVF.
With the confirmation of the creation of a fistula, the catheters are then removed. The blood then flows from the artery to the vein, significantly enhancing blood flow which is essential to support hemodialysis. After this, it is recommended that the patient undergo an embolization procedure to block a vein, which will then redirect blood flow more effectively.
Aside from the relatively easy, efficient, minimally invasive, and lower-risk procedure of establishing vascular access, percutaneous fistula placement has opened new doors to additional ideal locations for creating an AV fistula.
The percutaneous approach enables vascular access through the use of only two tiny incisions or punctures. It also prevents the formation of the surgical scar typically associated with the open surgical AV fistula procedure.
Moreover, patients who have concerns with traditional surgical AV fistula creation get an excellent alternative in a percutaneous fistula or endoAVF. The presentation of this new alternative is another way of giving dialysis patients some level of freedom and control in deciding on the right vascular access creation option for themselves.
Patients requiring dialysis are encouraged to make an appointment with Vein Health Clinics to get an evaluation and to discuss their options in terms of vascular access for dialysis.
The clinic continues to accept most major insurance plans and self-pay options.
For inquiries on vein and artery-related matters or to book a diagnostic evaluation, contact 407-278-6925 (Oviedo) or 863-223-3797 (Winter Haven), or use their online contact form.
About Vein Health Clinics:
Established in January 2016, Vein Health Clinics is a specialist clinic in the Central Florida area. They offer specialist diagnostic and treatment services that address vein and artery concerns. These include varicose veins, spider veins, peripheral artery disease, chronic venous insufficiency, and pelvic congestion. They also perform dialysis access implantation.
Vein Health Clinics is available in two locations: Oviedo and Winter Haven, Florida.
For more information, please visit https://www.veinhealthclinics.com/
Contact:
Dr. Obinna Nwobi
onwobi@veinhealthclinics.com
7490 Cypress Gardens Boulevard
Winter Haven, Florida
Phone: 863-226-6196
Release ID: 88962683