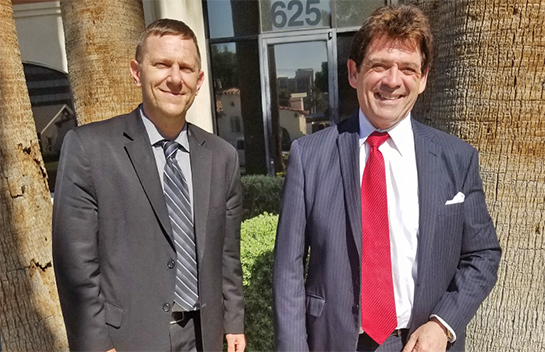 - August 5, 2020 /PressCable/ —
Nevadans remain mired in Phase II of the planned "reopening" for a second month. It is clear that the landscape around Las Vegas is changing rapidly and what's more—the so-called "new normal" may have very little resemblance to the pre-pandemic normal. Many court appearances for less serious offenses—all traffic matters, most misdemeanors, and many nonviolent gross misdemeanor and even felony offenses—are being continued, once, twice, and often again, as the courts, the judges, the lawyers, and the parties all try to figure out just how to proceed.
The current plan according to the latest in an-ever growing number of judicial administrative orders indicates that Las Vegas residents are to proceed with jury trials for in-custody defendants who have invoked their right to a speedy trial—as these men and women have priority given the very real Constitutional considerations attendant to their continued detention without a full and fair hearing. The practical reality is that none of the above-mentioned stakeholders—not the court staff and personnel, not the judges, not the lawyers, and oftentimes not even the parties—really believe that bona fide jury trials can safely be conducted in the month of July. In fact, there is growing unease about trying cases before juries in 2020 period, let alone during this seemingly lost summer.
The economic, political, and educational upheaval this is working in Las Vegas communities and other Nevada communities: Henderson, Laughlin, North Las Vegas, Mesquite, even Ely—cannot be overstated. Jobs are being lost, homes will be foreclosed upon, and a public education system that is already amongst the lower tier in the country is seemingly destined to let down children as schools cannot reopen and keep kids safe. Parents lucky enough to still have jobs cannot become full-time child care providers as schools remain shuddered or transition to primarily distance learning, which carries with it a whole new set of problems, inequalities, and opportunities for continued learning loss amongst those students living in disadvantaged financial circumstances.
Yampolsky & Margolis Attorneys at Law, are striving to help their clients access justice. Las Vegas attorneys are still making court appearances via Blue Jeans and Zoom, meeting virtually via video chats with clients and potential clients, and are wearing masks in the office. Lawyers have locked the front doors to protect those inside from the potential of a crowded waiting room and surfaces touched by members of multiple unconnected households. Lawyers have had to rethink and adapt in order to continue to serve their clients—and they will continue to do so to the very best of their considerable abilities.
Mace Yampolsky, senior partner of the law firm, states, "We want you to know that no matter how bad the pandemic gets here in Clark County, no matter how long we stay in Phase 2, and even if we are still social distancing and wearing face coverings in 2021, Yampolsky & Margolis Attorneys at Law in Las Vegas will be ready to answer your call—and assuage your fears. This too shall pass."
More information about Yampolsky & Margolis can be found here:
Yampolsky & Margolis Attorneys at Law
625 S 6th St, Las Vegas, NV 89101
+17023859777
https://www.criminallawyerslasvegas.com/
Release ID: 88971391