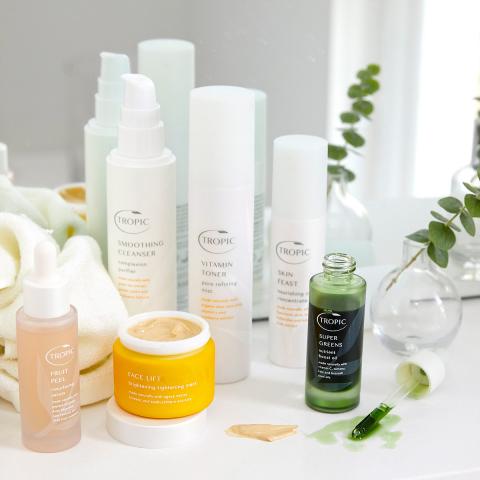 - August 7, 2020 /PressCable/ —
Tropical Skincare, a UK-based Australian-inspired award-winning, cruelty-free, boutique manufacturer of natural beauty products, has launched a new range of sun protection in time for the European summer season.
Find out more here https://tropicskincare.com/pages/margarethenry
Cruelty-free and made from natural ingredients. It is water-resistant and certified as containing reef-safe ingredients. The company believes modern sun care should provide skin protection while also protecting the oceans and its inhabitants.
While many people are facing a vastly different summer from what they were expecting, sitting outside in the garden or going on walks can cause skin damage. Whether from the sun, pollution, or blue light technology rays, protection is key.
High Energy Visible light (HEV), also known as blue light, has a higher frequency than other colours visible on the spectrum. The expert team behind Tropical Skincare believe HEV light can reach deeper into the skin than UVA and UVB rays.
Although blue light is emitted from the sun, it also comes from screens such as smartphones, tablets, and laptops. While the blue light produced by devices is a fraction of that produced by the sun, it is important to understand its effect on the skin. Essentially, it can speed up the ageing process by weakening the deep layers of skin.
Tropical Skincare suggests a daily broad-spectrum sunscreen can help to protect the skin against pollution, HEV light, UVA and UVB rays. 'Sun Day', a factor 50, everyday high protection option is available in two sizes and includes prebiotics and plant polymers that prime the skin for flawless make-up application.
'Skin Shade' is a tinted facial sunscreen that offers dewy coverage, water-resistance, and broad-spectrum protection. It is long-lasting and prevents free radicals and UV rays from causing damage.
A company spokesperson said: "We're proud to produce natural, vegan, cruelty-free beauty products that help people protect their skin and health. Skin care is so important, but many people think they only need sunscreen when it's hot."
"Much of the skin damage being caused by everyday UVA and UVB rays goes unnoticed until it is too late to reverse. Our new range of products are designed to sit lightly on skin to ensure everyday protection," they added.
Interested parties are invited to visit the website at the URL above to find out more.
Release ID: 88971734