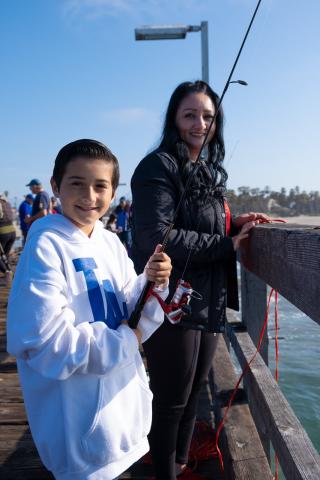 - April 20, 2019 /PressCable/ —
Port Hueneme, Calif., April 19, 2019 ― Jessica Fuentes, Port Hueneme Branch Manager of Ventura County Credit Union (VCCU) adds her financial expertise to Reel Guppy Outdoors, serving as Treasurer on its Board of Directors.
Fuentes, an alumna of the Western CUNA Management School, has worked in the banking industry for 20 years and has been with VCCU since 2002. "My passion is to give back to the community," said Fuentes, "The [Guppy] program is growing, currently averaging 50-60 kids at these events. From what I've seen and heard, it's a great program to get the kids involved in something, especially if they're not involved in anything right now. The parents are also involved, they stay for the events."
When presented the opportunity, Fuentes chose to serve on the board for Reel Guppy Outdoors because of their kid-friendly and family-centered values. "I have 9, 16, and 23-year-old boys who are not into sports. So I wanted to get them involved with what I do. We went to the pier fishing day for the first time last month. My 9-year-old loved it," shared Fuentes.
Kevin Brannon, founding president of Reel Guppy Outdoors, stated, "Our organization continues to level-up. We're blessed to have someone as knowledgeable as Jessica join our team so we can more effectively manage our resources while serving our community."
Since joining the board of directors in March, Fuentes quickly revamped their financial statements, minutes, and agendas. For nonprofit organizations, financial statements are essential for monitoring its health and for applying fiscal responsibility. "The next step is to review their processes and streamline for efficiency," added Fuentes.
Known for contributing to community causes, VCCU is very supportive of Fuentes serving on the board for the local nonprofit. "[VCCU] loves it that we're out there giving back to the community," said Fuentes. VCCU actively encourages employee volunteerism through its CommUNITY Giving Program. Posted on their website, "We're honored to have had our employees extend a helping hand to the Ventura County Sheriff's Foundation, Ventura County Leadership Academy, Center4SpecialNeeds, American Red Cross, Ventura County Animal Shelter and countless other organizations that benefit our community."
This year, the Ventura County and Santa Barbara communities can look forward to even more family-friendly events and monthly classroom programs hosted by Reel Guppy Outdoors. In addition to the free kids fishing days, the nonprofit organization is building a rewards program where participants can earn free boat trips for their involvement in beach cleanups, educational workshops, and kids day events.
Visit www.reelguppyoutdoors.com for more information on upcoming kids day events and volunteer opportunities.
About Reel Guppy Outdoors
Reel Guppy Outdoors is a fun, educational, and family-oriented program instilling an appreciation for California's natural resources. Founded by the host of Reel Anglers Fishing Show California, Kevin Brannon, Reel Guppy Outdoors is a 501(c)(3) nonprofit organization based in Port Hueneme that has served over 2,100 Guppies to date, literally and metaphorically teaching at-risk youth "how to fish" for themselves. Parents are equipped with fishing know-how so they can confidently take their family to "catch a memory" together outside of the fishing trips coordinated and supervised by Reel Guppy Outdoors. The Reel Guppy Outdoors interactive curriculum develops teamwork, confidence, self-motivation, an understanding of ecosystems, and responsible angling for sustainable fisheries. For more information on upcoming kids day events, classroom workshops, or partnership opportunities, please visit www.reelguppyoutdoors.com.
About the VCCU CommUNITY Giving Program
Visit https://vccuonline.net/membership/community-involvement for more information on the VCCU CommUNITY Giving Program.
Release ID: 505010