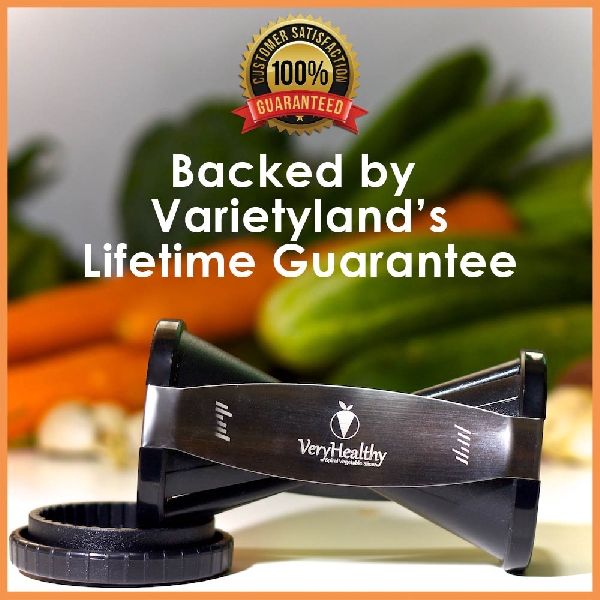 - May 25, 2015 /PressCable/ —
Varietyland prove their confidence in The Very Healthy Spiral Slicer through offering a lifetime full money-back guarantee on all purchases of the spiralizer.
Varietyland's refund policy expressly states that customers unsatisfied with the Very Healthy Spiral Slicer will receive a 100% full refund. The worry free guarantee is not only applicable to first receiving the device but also applies to any problems that arise during the lifetime of the product. The device is made from high quality plastic, which provides rigidity and durability to help facilitate in the slicers long and effective life.
The Very Healthy Spiral Slicer is Varietyland's own innovative vegetable spiralizer. The product is already a big hit with the health conscious, dieters, busy parents and vegetable lovers, as it provides a new quicker, easier and more convenient way to prepare veggies. The results are beautifully thin, crisp and colourful spirals that can be incorporated into a huge range and variety of meals. It removes the complexity and lengthy times often required to prepare fresh and healthy dishes while putting some colour and creativity into the meals.
The Very Healthy Spiral Slicer is available for purchase now exclusively from Amazon.com. Purchasing from a trusted and reliable source makes shopping safe, easy and convenient. Customers also benefit from free delivery on orders over $35 in total, and 20% off using a coupon code available from the Varietyland website.
The worry free refund policy in place covers the lifetime of the product and guarantees that in the case of any issues or problems throughout this time, customers will receive every penny of their money back. The nature of the agreement confirms Varietyland's confidence in the product and belief that it will sustain its effectiveness throughout regular usage.
"The money-back guarantee was put in place to allow our customers to shop in confidence and with full peace of mind", said Alvin Hung, CEO and Founder of Varietyland. "We want our customers to try our product risk free, so that if they have any problems with their Spiral Slicer for the lifetime of the product, they can simply contact our friendly customer service and we will refund every penny of their purchase."
As the company responsible for the Very Healthy Spiral Slicer, Varietyland believe that the device is going to change and enhance the way vegetables and healthy meals are prepared. It is designed to make healthy eating an accessible and practical option for all Americans.
Customers can visit the Very Healthy Spiral Slicer product listing page on Amazon for more information: https://varietyland.com/amazon
About Varietyland
Varietyland has a strict objective to help improve the health and wellbeing of their customers through making nutritious home cooking quicker and easier. The company promotes and encourages a quality and enjoyable kitchen experience through their innovative kitchen tools and the provision of tips, hacks and information. With the skills, knowledge and tools, Varietyland believes that everyone can succeed and enjoy their transition to a healthier lifestyle.
Release ID: 82660