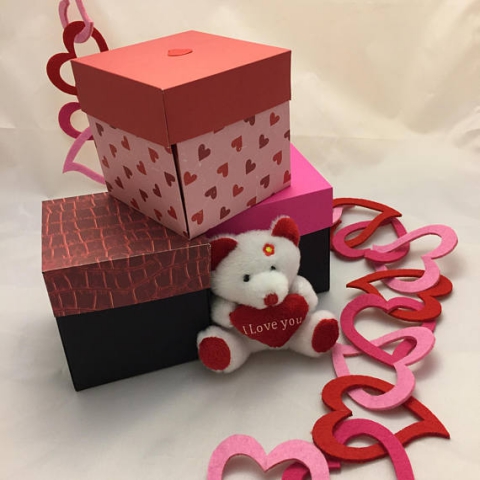 - January 22, 2018 /PressCable/ —
A new Valentines pop up keepsake gift box has been launched by Chrissy's Creations YYC in time for Valentine's Day. This Etsy store offers their customers a selection of custom handcrafted gifts including cards, mugs, wall decor, decals and tumblers.
Chrissy's Creations YYC have launched a Valentine's Day pop up memory keepsake gift box card. This Etsy store stocks a range of hand crafted gifts ideal for family, loved ones, friends and pets.
For more information please visit the website here: https://etsy.com/shop/ChrissysCreationsYYC
Chrissy's Creations YYC is an online Etsy store owned and run by Chrissy. Chrissy is based in Calgary, Canada and lives with her Morkie, named Lily. She explains that she has a passion for coming up with unique and fun gift ideas and creations for her customers.
Etsy is an excellent way for creative people to share their passions and talents with customers who wish to buy something a little bit different and is a great way for people to generate extra income from their talents alongside their regular jobs.
Valentine's Day is just around the corner and is the ideal time for people to let their loved ones know how much they care. Chrissy's Creations have launched a new surprise Valentine's Day gift that combines a card and gift in one.
Their new pop up memory keepsake box card appears to be a gift box from the outside, but when it is opened all the sides fall back to reveal layers of pockets, envelopes interactive features, photo frames and much more.
When purchased, the box can then be filled with personal photos, notes, treasures and memories to create a truly special personalized gift that will be treasured. The smaller inner box can be used to place a small gift such as jewellery and is ideal for surprise engagement rings.
The surprise box can also be given as a gift for weddings, anniversaries, birthdays and Mother's Day. The store is also offering free shipping on the pop up box card until January 31st 2018.
Chrissy's Creations currently stocks a range of hand crafted items that make excellent gifts or treats for customers to themselves. Items include mugs, drink bottles and custom signs for the home. For example customers can purchase a Welcome To Our Home Sign or family tree and have their names or family name added to the canvas.
Those wishing to find out more about Chrissy's Creations can visit the Etsy store on the link provided above.
Release ID: 290159