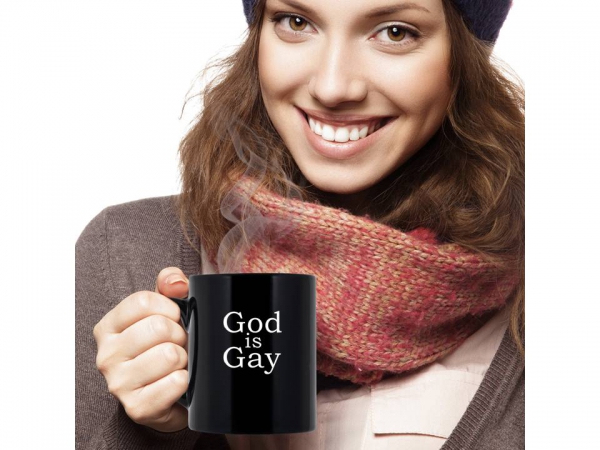 - February 12, 2018 /PressCable/ —
New York-based, Goodfriend Publishing, the publisher of the 'God Is Gay' book, a scriptural analysis for homosexual reference, has announced that its God Is Gay mug makes for the ideal Valentine's Day gift idea. Releasing additional mugs, due to increased popularity, Goodfriend Publishing is finding that gift boutiques are buying the mug and then filling it with lollies, chocolates and nuts, as well as movie tickets and small trinkets as the ultimate Valentine's gift.
More information is available at https://gearbubble.com/godisgay.
Recently released, the God is Gay Christianity Valentine's Day mug is a quality ceramic product weighing 15oz, which makes it ideal to fill with sweets or savory treats as a unique, yet memorable gift idea. With the words 'God Is Gay' stenciled on the front in white lettering, this mug also makes a statement, and shows support for gay rights.
Aiming to spread the God Is Gay message – supporting the LGBT movement and equality – the mug makes for the perfect Valentine's gift with love conquering all on this monumental day. Both affordable and a conversation starter, this quality mug is ideal for those who like a meaningful present.
Those who think the mug is special, but don't understand its context, can also purchase the book 'God Is Gay'. As a scriptural analysis of many editions of the bible, some dating back to the 1500's, this title searches through scriptures to prove that the Old Testament does not refer to homosexuality. However, New testaments have inclusions that segregate homosexuality. As such, the God Is Gay title proves that the modern-day versions of God's Word contains man's manipulations, when God's original word projects love for all regardless of their sexual preference.
When asked about the popularity of the mug for Valentine's Day, a merchandise buyer for a gift boutique said, "These mugs make a great gift idea for the person who has everything. We are buying these quality mugs and then filling them with delicious treats such as lollies, chocolates and nuts, complete with two movie tickets for the best night out, and they're walking out the door. Plus, they make a great statement."
To find out more about God is Gay, Christian faith and the Valentine's God Is gay mug, visit http://godisgay.com or https://facebook.com/godisgay.thebook and the link above.
Release ID: 299760