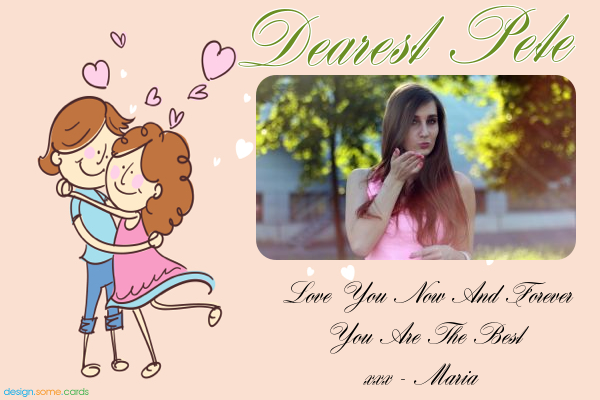 - February 2, 2017 /PressCable/ —
Stevsnet has announced a new upgrade to their popular eCard creator, Design Some Cards.
Design Some Cards has multiple new features designed to make life easier for everyone, especially romantics including:
Text Styling – When adding text to an eCard the new border feature adds a fabulous border around the text really making the text pop off the card. With hundreds of custom fonts available the border, or stroke feature as it's known in the design industry adds a new level of style and professionalism to the eCards.
Photo Rounding – Photo rounding adds curved edges to the users photo to provide a smooth stylish appearance. Rounding the edges of photos is another favorite feature graphic and web designers like to implement into their creations to add a touch of class to the overall design.
More Intuitive Interface – The overall interface has become even more intuitive and easier to use thanks to less steps required to access different features of the eCard creator. Already sporting a clever WYSIWYG interface the additional control that's been added means everything a user needs when editing a section of the eCard comes into view when they click on a particular element.
A full list of changes to Design Some Cards can be found on the website, https://design.some.cards.
The changes in this eCard Creator were bought about due to The changes in this one added more style to the finished product. As part of an ongoing effort to improve the user experience for Design Some Cards, customers can expect regular updates both now and in the future.
Steve Forster, founder and CEO at Stevsnet, had this to say:
"The response and interest from the public in our eCard creator has been overwhelming. We weren't anticipating the level of enjoyment people would get from it. We were hopeful but you never can tell how things will go until you open the doors. It's not only been amazing but it's been the response generated from our users that's been steering the new features and we look forward to introducing even more in the weeks and months ahead."
The Design Some Cards eCard creator provides hundreds of stylish templates in a variety of categories that everyone can enjoy. A growing number of templates for creating invitations are available and a crowd favorite, the meme generator is proving very popular. However with Valentines Day just around the corner it's romantics around the world who are joining in droves and proving the most popular users of the service.
Current users interested in accessing the new features can do so directly on the website at https://design.some.cards. New customers can also use the site to access the latest version for free.
Release ID: 166117