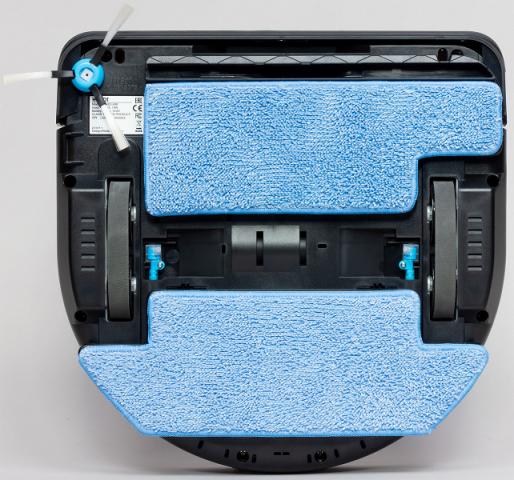 - January 25, 2022 /PressCable/ —
During cleaning, Hobot Legee-688 vacuum mop robot collects debris from the floor, moistens the floor surface and intensively wipes softened dirt from it. The ability to maintain orientation and build a map of the room being cleaned increases the speed and quality of cleaning. If necessary, the user can easily adjust cleaning parameters using a mobile application, monitor how the robot works, and promptly intervene in the process.
When cleaning while moving forward, the front side brush picks up debris from corners and walls to the air duct, through which the robot sucks the debris into the dust collector. The cloth on the front movable platform performs a dry mopping of the floor. Two nozzles spray water onto the floor, moisturizing dirt and stains. Then a napkin on the rear movable platform scrubs the floor from the softened dirt.
During cleaning, the application window displays a map that the robot is building in real time, which allows for control of its behavior and take measures to improve the quality and speed of cleaning: choose another place to start the robot, rearrange furniture, etc. The source of additional information is a cleaning log that stores maps and other data.
Testing has shown that the robot retains its orientation well, even after minor troubles in the form of getting stuck in difficult places. There are errors in determining the current position, but they are rare.
It is convenient that when launched in sufficiently large rooms and with sufficiently long straight sections of walls, the robot aligns according the trajectory of movement. As a result, it proceeds in perpendicular and parallel movements to the walls, which speeds up cleaning and improves its quality. In small rooms with a complex configuration and a large number of obstacles, the robot may incorrectly determine the orientation of the walls, in this case, it helps to map out the starting points for cleaning. The robot is quite meticulous, especially during the final round around the perimeter, to get where it goes in terms of dimensions. In such places, it cannot always turn around to leave, but this does not deter it from simply moving back until it gets out into the open.
We tested the robot in the user mode when the degree of moisturizing, suction power, the frequency of movement of wipes and the speed of movement was set to maximum. The outcome is the robot moisturizes the floor very moderately. The wet caterpillar tracks were slightly narrower than the width of the back cloth, and periodically a dry strip appeared in its middle. However, the robot can be used even in this mode, for example, on a non-moisture resistant laminate. The suction power is enough for the robot to pick up light debris well, and at the end of the test, a certain amount of sand was even found in the dust collector.
Release ID: 89061459