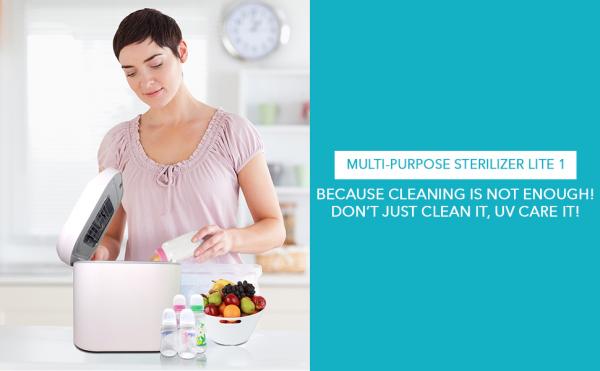 - December 8, 2020 /PressCable/ —
UV Care, a health company based in Arcadia, California, has released an updated range of products. The website offers high-quality germicidal solutions to individuals interested in an effective way to help keep their homes safe, healthy and sanitary.
For more details, please visit https://theuvcare.com
The recently updated ultraviolet products aim to provide an affordable and chemical-free method of cleaning and disinfecting household items.
In the event of a global pandemic, germs are foremost in everyone's minds as they are easily spread through handshakes, the exchange of mail parcels and handling door knobs and phones. Over 13.7 million Coronavirus cases have been recorded in the United States between January and November 2020, resulting in approximately 273,000 deaths.
UV Care offers customers access to premium ultraviolet products, manufactured in line with strict quality care protocols.
The UV Care Multi-Purpose Sterilizer can decontaminate almost any object, from baby bottles, toys, kitchen supplies, makeup brushes and cell phones; breaking down bacteria's DNA to destroy 99.9 percent of germs within 10 minutes of usage.
UV Care Sterilizers can also be utilized to kill germs on N95 face masks, making them safe for reuse. Multiple devices have been donated to hospitals and healthcare clinics and have helped to reduce the mask shortage problem suffered by medical staff around the world
The Sterilizers use a highly reflective and durable stainless steel interior but do not use heat, water or steam, therefore securing the condition and function of each item placed in the device.
With the latest announcement, UV Care continues to expand its range of germicidal solution products for customers throughout the United States.
A spokesperson for UV Care said: "Our product doesn't focus on just baby products, it can sterilize almost anything and has drying, sterilization and storage functions all in one device. It's a bottle sterilizer that customers will never have to give away or put away."
"Customers can use it for a long time and unlike other products that are costly, unsafe or use steam to sanitize, UV Care gives people the ability to clean almost anything they own, without harsh, toxic, chemicals."
Interested parties can find more information by visiting the above-mentioned website, as well as at https://theuvcare.com/collections/frontpage/products/uv-care-bottle-and-multipurpose-sterilizer-white
Release ID: 88988860