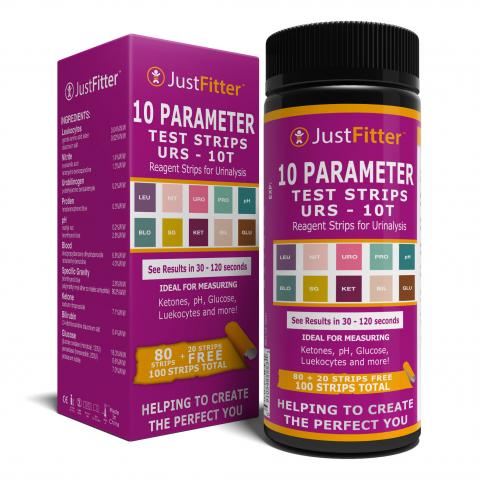 - June 20, 2018 /PressCable/ —
Just Fitter is pleased to announce that their new product UTI Test Strips are now available in UK through the country's favorite online shopping platform Amazon UK. This useful product has been designed to help detect Urinary Tract Infection at an early stage before it makes any serious impact on the body. Each pack of the product contains one hundred urine testing strips capable of accurately measuring key parameters such as Leukocytes, Nitrite, Urobilinogen, Protein, pH, Blood, Specific Gravity, Ketone, Bilirubin, and Glucose.
To find out more about Just Fitter UTI Test Strips, please visit: Just Fitter on Amazon UK
UTI is an infection that affects around 150 million people around the world each year. Untreated UTIs tend to become more severe and that's why early diagnosis and treatment is very important. Leukocyte and Nitrites are the two common parameters that are checked for UTI.
The UTI Test Strips from Just Fitter make it effortless to analyze urine samples for as many as ten parameters. The process is exactly the same as testing urine for ketones or pH individually, but provides much more in-depth idea about the overall well being of the body. A detailed analysis of urine also helps identify the food and drinks to eat and the ones to avoid.
Some key benefits of using Just Fitter UTI Test Strips include
· Leukocytes and Nitrite Test for possible Urinary Tract Infection
· Urobilinogen and Bilirubin tests to screen liver diseases
· Test the presence of protein in the kidneys
· Test the acidity of urine
· Specific Gravity check for the evaluation of kidney function
· Testing the ketone level of the body
· Measurement of the Glucose level in the urine
Just Fitter suggests users to test the second time they urinate for the day. The strips must be brought in contact with the urine midstream for a few seconds. The results are available by matching the color of the strip with that of the colour chart on the bottle. Just Fitter also suggests contacting a healthcare professional to discuss the results.
Announcing the launch of the product in Amazon UK, a senior spokesperson from Just Fitter said, "We are extremely happy to introduce our new UTI Test Strips via Amazon UK. Our entire team has worked diligently for months for this launch and we are confident that the product will be appreciated by the users."
To find out more about Just Fitter UTI Test Strips, please visit: : Just Fitter on Amazon UK
About Just Fitter: Founded in 2014, Just Fitter is dedicated to helping people achieve their best physical, mental, and spiritual health by encouraging them to embrace the benefits of a Keto diet lifestyle. Partnering with some of the best doctors, chemists, and nutrition scientists, the company has already helped thousands of people improve their lives in many ways including going Keto. Just Fitter also runs a popular Facebook page called createtheperfectyou, dedicated to helping people adopt the Keto lifestyle.
Release ID: 361809