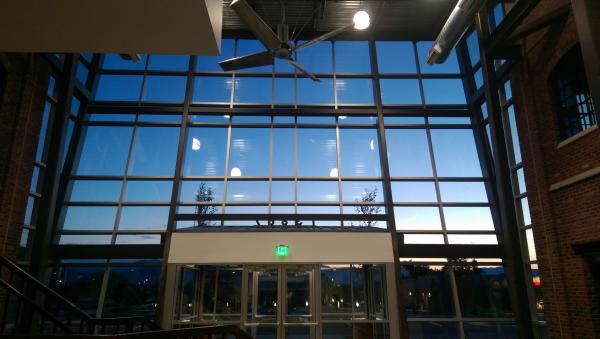 - June 25, 2020 /PressCable/ —
Utah's Window Washing today reflected on its adoption of modern Pure Water-Fed Pole Window Cleaning Technology. The main aim was always to benefit customers in a variety of ways. The window washing job is safer, cleaner, faster, more economical, and stays clean longer. No one has to worry about a worker in a heap on their driveway after a fall from a ladder; and pure water means no soaps, chemicals, or detergents. There's no streaks or water spots; just an ultra clear view. By defying convention, this window washing system has been delivering all those benefits and more.
Raphael Morreale, Partner at Utah's Window Washing, says: "We wanted to try something new with Pure Water-Fed Pole Window Cleaning Technology. Anyone familiar with the Window Cleaning industry will probably have noticed how everyone else always seemed to rely on dangerous ladders and scaffolds, using out-dated detergents and squeegees. We felt this was a problem because there is legitimate and costly risk in the window washing industry. Tragically, falls are not uncommon. At the same time, the work takes longer and is more expensive. Consumers also require the service more often as the detergents attract dirt, and leave hard water streaks; not just on the windows, but on the structure itself. The first rainfall is likely to render the job useless."
So as a welcome breath of fresh air, their Pure Water-Fed Pole Window Cleaning Technology creates purified water with zero Total Dissolved Solids (TDS) in it. Pure, mineral-free water naturally wants to bond with minerals, dirt, and organic material, making it an unmatched cleaning agent. The water is first filtered five times through a five-stage reverse osmosis system; and finally, through a final filter that de-ionizes the water, thereby removing all potential for water spots. The purified water is then fed through a telescoping carbon fiber pole, and released through a brush onto the surface. The pole weighs only 6 pounds, and remains rigid and controllable, allowing the ability to reach heights of up to 110 feet without ever leaving the ground. This process dries to a brilliant, streak-free finish, with no time or mess required with squeegees. No lifts, ladders, or staging involved. No risks, no lifts, no detergents, and no chemicals mean these modern methods save time, effort and money, and those savings are passed along to the consumer.
On top of all this, the extremely pure, de-ionized water leaves no marks or trace when it dries, even if it's raining when the windows are cleaned. There are no detergents or left over residues that will attract and collect dust and pollen, or re-activate and cause those white rain spots and streaks. The finished project is simply cleaner, and stays that way longer.
Utah's Window Washing chose to make this move because they believe clean windows can actually improve a person's outlook–not just out the window, but on life. Something about it just gives an uplifting attitude and feeling. They wanted more people to be able to experience this phenomenon. With less risk, less cost, less time, and better, long-lasting results, the team determined they could make a difference providing this service for their customers.
Raphael Morreale also said, "We want to give our customers the best possible experience. With so many people spending more time at home, staring out those windows, there's no better time for people to discover the actual difference a crystal clear view makes to your everyday attitude. With Pure Water-Fed Pole Window Cleaning Technology, more people are able to experience this. People love the results, and keep coming back for years, even though it's less frequently than before.
"While the investment for this change was significant, I'd definitely say it continues to pay off in spades. Trying something new is always a risk, but we believed it was worth taking. Not only are we able to better serve people at their homes, but the system has been extremely beneficial as far as the ramifications to the commercial window washing side of our business. We're now looking at investing in additional equipment. It's exciting to get this information out, because we want people to start looking for their best solution… not just 'window cleaning near me.' A better process makes all the difference."
The Utah's Window Washing team has been clearing the view for people and businesses primarily in and south of Salt Lake City since 2013. Since Day 1 they have always aimed to stand out from the crowd, while also providing their customers the best possible experience at the best possible value.
Pure Water-Fed Pole Window Cleaning Technology is now available in and around the primary service area of Utah's Window Washing, from South Jordan to Lehi, and Sandy to Alpine. To find out more about the technology, visit https://utahswindowwashing.com/water-fed-pole-technology/
For further information about Utah's Window Washing, visit https://utahswindowwashing.com
Release ID: 88965539