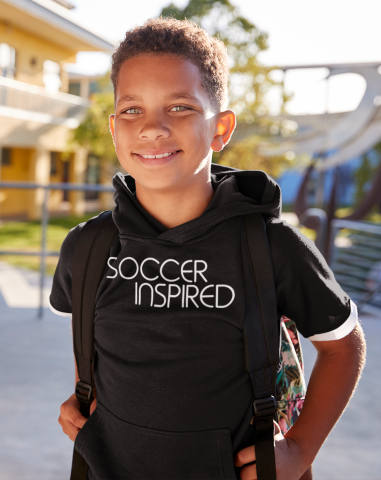 - December 15, 2020 /PressCable/ —
Utah-based soccer sports apparel brand UPPER90 has launched with an extensive range of sportswear for men, women and youths, available on its online store.
For more information see https://upper90thelabel.com
The newly launched brand's products are developed to provide premium quality activewear for soccer fans and players the world over. All products are made to order in the USA.
Company founder Jared Brubaker started the new brand motivated by his own family's need for modern and comfortable soccer-centric garments. With nationwide statistics indicating that the number of soccer participants in the US is trending up, Brubaker brings his brand's line of activewear to a growing audience, satisfying a heightened demand for associated kits and apparel.
Recent figures show that there are upwards of 5 million active soccer participants in the country aged 26 or over. Further, more than 4 million children between the ages of 6 and 12 are involved in the sport, with an additional 2 million participants from 13 to 17 years of age. UPPER90 is committed to designing sportswear for all age groups, supporting soccer's rising popularity stateside.
According to reports by the Sports and Fitness Industry Association in 2019, soccer participation numbers in the United States increased by 4.5 per cent in a single year. To ensure that soccer participants both in the US and worldwide are supplied with branded performance apparel, UPPER90 provides a new line of products including hoodies, joggers, leggings, tank tops and beanies.
Brand-label hoodies are designed for comfort and protection from adverse weather conditions, optimized for outdoor soccer participation. Their combed-cotton exteriors with interior fleece coatings combine warmth with style and practicality. In addition, the brand provides performance t-shirts that specifically combat sweat with moisture-wicking materials, suited for active youths.
UPPER90 has provided branded apparel on an official basis for state youths. Brubaker said: "We were able to brand an entire kit for a soccer training company in Utah. All of their winter clinic participants will have an UPPER90 branded kit consisting of jersey and shorts. Right now, I am speaking with a handful of manufacturers to make new lines and products."
Interested parties are invited to visit the new lifestyle brand's website at the above-mentioned URL, where they can find the full range of available products.
Release ID: 88988829