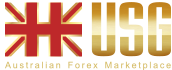 - August 8, 2016 /PressCable/ —
PsyQuation offers a state-of the-art alert system designed to help forex traders maximise profits by eliminating costly trading mistakes. It provides traders with a visual display of their progress by analysing their trading behaviour and pointing out the mistakes, with a scoring algorithm rewarding the traders' willingness to accept and fix corrective suggestions.
C.E.O. of PsyQuation Dr. Michael Berman said "I am excited about the partnership with USGFX and that it was a pleasure to work with a progressive and client-orientated forex broker."
"Our software is designed by traders for traders with the simple objective to help them eliminate their trading mistakes" said Dr. Berman. "USGFX is a progressive and client-focused broker and it gives me immense pleasure to be teaming up with a broker of such calibre to deliver our service to their clients".
Mr. Shay Zakhaim, C.E.O. of USGFX said, "We are delighted at the partnership with PsyQuation as both companies are aligned in helping traders make better trading decisions."
"At USGFX we strive to empower our traders with the best market research, tools and signals to allow them to make better, more informed trading decisions" said Mr. Zakhaim. "Our partnership with PsyQuation allows us to take this commitment to the next level with their behavioural alert system and I am pleased to be able to provide this very insightful software to our clients. PsyQuation is a forward thinking company with a vision to help traders and I'm delighted that we are aligned in that goal".
Dr. Berman is the former CEO of an online emerging manager incubation platform and hedge fund manager for more than a decade. He has also been a director of a public company and worked for a number of leading South African investment banks. To learn more about PsyQuation visit the website here: https://psyquation.com
USGFX is an award-winning Australian forex broker head-quartered in Sydney and provides it's traders with direct access to the markets, along with industry leading tools and services, market analysis and a structured forex educational program.
Release ID: 126839