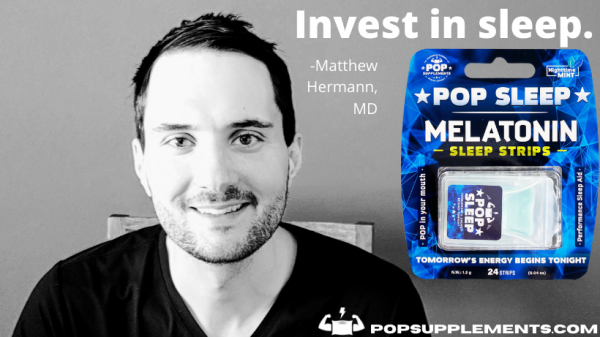 - April 26, 2021 /PressCable/ —
POP Supplements, an online health store, has launched their melatonin-based sleeping aid, POP Sleep, for those who struggle with sleeping difficulties. Their goal is to help customers experience a good night's rest so that they feel refreshed in the morning, ready to take on a new day.
For more details, please visit https://popsupplements.com
The recently launched supplement provides clients with an affordable and effective treatment option for a wide range of sleeping difficulties. Sleeplessness is on the rise because of stressful, modern lifestyles, with many not knowing how to address this challenging issue.
Studies show that a lack of sleep can contribute to a lack of energy, focus, and drive while having a long-term negative impact on mental and physical wellbeing. However, most traditional melatonin sleep aids only have 15% bio-availability and can take up to an hour to take effect, which can result in people taking more supplements to get to sleep.
POP Sleep has been designed as a pleasant tasting sub-lingual mint strip that is rapidly absorbed into the bloodstream to bring on deep, restful sleep within minutes.
At 1.5mg per strip, the product contains sufficient melatonin to induce peaceful, restful sleep. An additional active ingredient is Vitamin B6 which is also known for its positive effect on inducing sleep.
Each palm-sized container holds 24 small dissolvable strips with a recommended dosage of 1 or 2 strips before going to sleep, in addition to a scheduled break of at least once or twice times a week.
POP Supplements' product launch is in line with the company's commitment to providing high-quality sleep supplement solutions dedicated to helping their clients get much-needed sleep and recover their energy and vitality to live full, productive lives. POP Sleep has been launched for customers in the United States. A portion of the profits from the sale of POP Sleep goes towards the 1 Life Fully Lived life enrichment program.
A satisfied client said, "Working long hours at a stressful job with a busy family means my designated sleep time is limited. After trying POP Sleep strips, I went from 4 to 5 hours of sleep on a good night to getting a full night's rest."
Interested parties can find more information about POP Sleep melatonin supplements at https://popsupplements.com
Release ID: 89007084