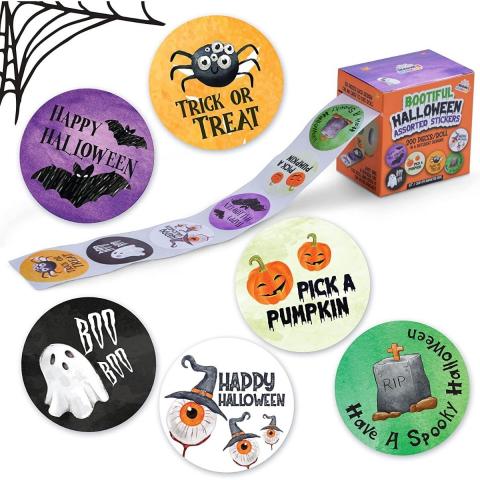 - September 20, 2021 /PressCable/ —
The new product features 200 pieces of round peel-off and stick labels that are suitable for all types of Halloween decorating.
More information can be found at https://www.amazon.com/Halloween-Sticker-Roll-1-5-Inches/dp/B09D9T6HRJ?maas=maas_adg_34635422F9181DD7827DAB644D57358C_afap_abs&ref_=aa_maas
The merchandise was launched to provide customers with easy-to-use decals that can be utilized for creative gift wrapping and crafting activities.
As a purveyor of holiday goods, WG Wholesale is aware of the many requirements that party decorating can pose. Halloween being one of the most celebrated occasions in the country, preparing for it entails time, numerous materials, and additional expense. For busy homemakers most especially, this can become an unnecessarily huge undertaking.
Hoping to make the holiday celebration easier to conceptualize and execute, the company released convenient stickers that will make for fun and imaginative do-it-yourself festivities at home.
The 1.5-inch stickers feature 6 beautifully illustrated cute and children-friendly designs—a smiling spider, giggling pumpkins, eyeballs wearing witch hats, bats, adorable ghosts and cartoon tombstones. The high-quality self-adhesive backing eliminates the use of sticky tape or strings unlike regular gift tags.
Additionally, the decals come in a box that doubles as a convenient dispenser. Each sticker can be pulled out from a pre-cut slot on the side of the package, peeled-off and applied to any flat surface. It can be placed on glass, wood, metal, plastic, paper, and painted surfaces. Removal and clean-up is also effortless and will not leave any residue.
The product is suitable as goody bag fillers, party favors for trick or treat, school and corporate parties. It can also be used as embellishments for plates, cups, and meal boxes for Hallows Eve entertaining.
Made for children to enjoy, the stickers are manufactured with non-toxic materials. The fun and colorful graphics spark their imagination and help encourage them to join in on holiday decorating.
Teachers will also appreciate the mess-free possibilities that the labels will bring to classroom activities.
According to a spokesperson from WG Wholesale, "This Halloween sticker roll is what you need to level up your preparation for the spookiest day of the year. The festive stickers are durable and will allow you to be more creative!"
Interested parties can visit https://www.amazon.com/Halloween-Sticker-Roll-1-5-Inches/dp/B09D9T6HRJ?maas=maas_adg_34635422F9181DD7827DAB644D57358C_afap_abs&ref_=aa_maas
Release ID: 89046132