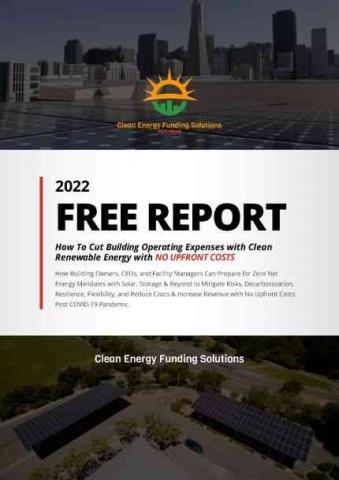 - January 21, 2022 /PressCable/ —
Authored by industry expert Ken Stout, the recently released e-book can now be obtained from the company's website. It details four factors that businesses, homeowners, and non-profits can use to upgrade to a zero-net-energy building.
More details can be found at: https://www.cleanenergyfundingsolutions.com
The effects of climate change require little introduction, and efforts to move towards green energy production are gaining momentum throughout the US. In the complimentary new report, Clean Energy Funding Solutions explains how solar, storage, microgrids, and other renewables will not only reduce building operating costs, but can also be installed without any upfront costs.
Indeed, the report lists a number of distinct benefits for building owners, facility managers, landlords, and other stakeholders. They include mitigation of electricity pricing risks, lower electricity costs, the ability to generate revenue through the sale of excess capacity, increased resilience, and full control over a building's power demands.
While the potential benefits are numerous, the report also cautions that upgrading to a zero-net-energy building can involve several potential pitfalls. The author provides details of each, advising readers on how to avoid the most common mistakes.
Many readers might be attracted by the suggestion of no upfront costs. While this is most definitely achievable, the e-book provides details on several costing models. In doing so, organizations are alerted to the funding options that may best fit their own circumstances. Some options listed include PPAs, capital leases, traditional loans, and CPACE loans.
About Clean Energy Funding Solutions
Partnered with the number one commercial solar and storage company in the US, Clean Energy Funding Solutions' stated aim is to assist businesses, non-profits, and homeowners achieve 100% renewable energy in a cost-effective manner. Solutions currently offered are turnkey in nature, reducing inconvenience for those seeking renewable energy installations.
A company representative stated: "Many business owners often falsely believe that going green and reducing their carbon footprint is extremely expensive. In reality, it is the exact opposite. Internally, going green is actually an effective way to reduce your operating costs, save money, and mitigate risks."
Interested parties can learn more by visiting: https://www.cleanenergyfundingsolutions.com
Release ID: 89060860