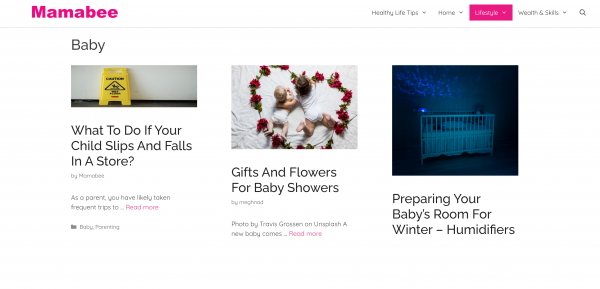 - March 23, 2021 /PressCable/ —
Mamabee, the blog of a New Jersey based mother of two, has now expanded into an online community that offers mothers exclusive onlineparenting resources, useful tips, trending stories about motherhood, and an increasing world of information.
More details can be found at https://mamabee.com/about
The launch of this expanded advice platform coincides with the ongoing effects of the pandemic, which continues to isolate Americans, distancing social interactions and moving them to online platforms.
Given that prior to the pandemic, research already indicated that 52% of new American parents felt both lonely and socially isolated, Mamabee, therefore, wants to create an online community that can support those mothers who might be feeling more alone than ever.
Utilizing the advice and experiences of real mothers and the skills of expert writers, the Mamabee platform is now offering its community the latest parenting news from around the world as well as insights into better parenting, health, family, entertainment, relationships, home care, and more.
Beyond its articles, Mamabee continues to thrive as an online community, connecting mothers across the US and throughout the world, and creating a safe space in which to share experiences of motherhood.
Aspiring mothers and writers can also contribute to this growing online platform with their own articles on the site's guest blog.
The expanded Mamabee blog features recent titles as diverse as "6 Reasons to Get A Pet For Your Kids", "What Is The Claims Process For Health Insurance" and "Thoughtful And Clever Ways To Announce The Birth Of Your Baby."
Mamabee was founded by Meghna, a New Jersey based mother of two, who wanted to bring her readers answers to complex parenting questions and real-world strategies and solutions. The site has continued to expand to become one of the US' largest online motherhood collectives, never losing sight of its goal to provide useful information that moms can use to make their lives easier and their families happier.
Founder Meghna said of the growth of the Mamabee platform, "Trust MamaBee to keep you informed and enlightened every day."
Interested mothers and mothers-to-be can access more information at the website above.
Release ID: 89002105