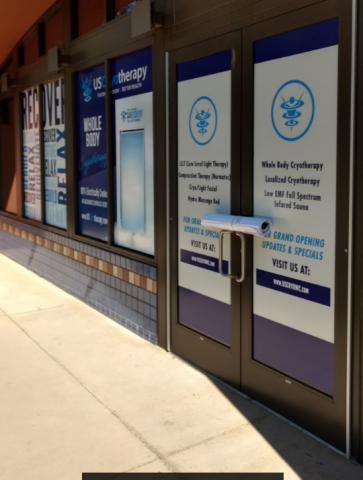 - August 29, 2017 /PressCable/ —
(Walnut Creek, CA) – US Cryotherapy Walnut Creek Franchise owners Larry Fitzgerald, Nancy Fitzgerald, and Tim Fitzgerald have signed a lease in the Avalon Walnut Creek building, in the Contra Costa Center near the Pleasant Hill Bart Station. Construction has commenced, with a grand opening planned in November. More information can be found at: http://USCryoWC.com.
The cold air therapy wellness center offers a unique new way to cool and heal a person's body. Whole Body Cryotherapy (WBC) offered by US Cryotherapy is exposure to subzero temperatures in a 100% electrically cooled walk-in chamber environment using only cold air using no liquid nitrogen gas.
The entire body is exposed (including chest, neck, and head during the short duration session).
Extreme cold stimulates skin sensors, activating a Central Nervous System (CNS) response, which causes the release of endorphins, the body's natural pain inhibitors and mood elevators, which can accelerate recovery benefits while elevating mood and energy.
Whole Body Cryotherapy treatments have been adopted by elite athletes, pro sports teams, and the general public of all ages as a holistic new way to treat the body.
The center will also offer localized cold air spot treatments, cryo and light facials, low EMF infrared sauna, hydro massage bed, compression therapy, LLLT (low level light therapy), vibration plates, and select premium retail supplements and products.
The US Cryotherapy centers deliver high quality services and have become the nations most trusted and leading provider of cryotherapy services, with the highest levels of customer safety at the forefront, and an emphasis on customer experience and value.
The Company has created affordable solutions for anyone to get the recovery they need by offering pricing to fit the needs of the consumers, regardless of their budget.
Full details of the services available, and the benefits of US Cryotherapy can be found at the URL above.
About US Cryotherapy:
US Cryotherapy™ is a cold air therapy & equipment company based in the Sacramento, CA area. They operate company owned treatment centers in Roseville, CA and Davis, CA. with new locations (corporate or franchisee centers) planned in various locations around the country expanding rapidly.
US Cryotherapy was the first and remains the only company in the US offering whole body, walk-in chamber therapy using no liquid nitrogen for cooling. Their C4 systems accommodate up to four people in the chamber per session and are all electric refrigerated cold fresh air. There are documented advantages in areas of: safety, outcomes, and convenience using US Cryotherapy equipment. They are a global leader in WBC having administered more than 400,000 treatments since 2011 in multiple locations throughout the US.
US Cryotherapy is owned and operated by the Kramer family. US Cryotherapy's flagship center is located at 8200 Sierra College Blvd, Roseville, CA with Corporate Offices at 1490 Drew Ave, Suite 110 Davis, CA 95618. # 866-279-2796 www.uscryotherapy.com
For more information regarding US Cryotherapy, contact Kevin Kramer – CEO, at kkramer@uscryotherapy.com, or call 707-301-7690
Release ID: 234066