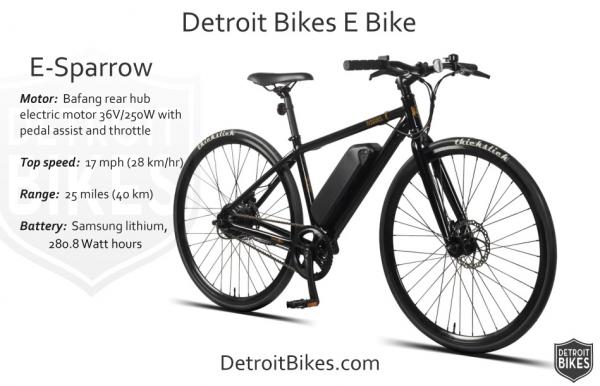 - July 20, 2020 /PressCable/ —
American Bicycle Manufacturer Detroit Bikes is releasing a new e-bike called the E-Sparrow. Detroit Bikes, known for their production of US made commuter bikes with a retro style, as well as large scale domestic manufacturing contracts for various other brands, continues its growth with a new e-bike. The E-Sparrow will retail for $899, and features a 36V/250W Bafang rear hub motor that reaches speeds over 17 mph.
"It was about time we got into the e-bike space" said Zakary Pashak, founder and owner of Detroit Bikes. "As beautiful a system as a human powered bicycle is, the accessibility and fun of e-bikes gives them the opportunity to truly change the face of urban transportation. To hit the e-bike market with a solid, fun as heck bike for $899 is going to give Detroit Bikes a competitive edge in this forefront of new urban mobility."
Detroit Bikes is unique in the US bike manufacturing industry as the one of the only US companies that has a 'made in the USA' bike frame using US sourced chromoly. Most US bike manufacturers have their frames manufactured and assembled in China. For the US bike shopper who wants to support US made companies, Detroit Bikes provides the most US made bike on the market. Detroit Bikes has two lines of commuter bikes, one which is more affordable that is assembled in the US and one with US manufactured frames. Bikes range in price from $399 to $1249.
The E-Sparrow has a 25 mile battery range on the standard 36 volt, 280 watt Samsung battery. The bike has both pedal assist and a thumb throttle. "This bike makes getting around very easy, and very fun," said Pashak.
Detroit Bikes will be launching the E-Sparrow with 50% down payment pre-sales starting this week at www.detroitbikes.com.
The E-Sparrow is based on the wildly popular Sparrow model the company released last year with a sold out Kickstarter campaign that has grown into somewhat of a cult status bicycle. "The Sparrow was designed by Ben Serotta and a team of industry veterans, and they nailed it- especially with this nationwide recent run on bikes the Sparrow has never been more popular. We've sold everything we have."
Detroit Bikes manufacturing and assembly takes up 50,000 sq feet of space on the far West side of the city in a designated Opportunity Zone. It is the largest bicycle frame factory in the country.
Release ID: 88969072