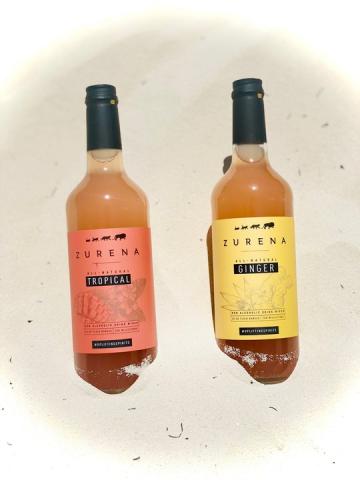 - March 8, 2022 /PressCable/ —
The mixers are designed to bring a touch of the warm, tropical white sand beaches of the Caribbean islands to consumers' homes, even in the final days of winter. The new range features flavors that will remind drinkers of poolside cocktails, palm trees, sunsets and stress-free vacations.
More details can be found at https://www.myzurena.com/about-us
Given that international travel remains challenging in 2022, Zurena wants to emphasize that food and beverages can be a meaningful way to explore and interact with other cultures.
All of their new mixers are made exclusively from all-natural and sustainable ingredients. One of their popular new drinks is their tropical flavor. Using a base of filtered mineral water and pure cane sugar, sourced from the Caribbean, the drink features classic tastes like lemon and lime, with unique notes of oleoresin rosemary and red radish.
Equally pleasing to the palette is their new ginger flavor, which similarly reimagines the classic mixer, giving it a more local flair.
When added to wine, beer, or spirits of any kind, the mixers create the effect of a luxury resort cocktail in minutes.
Customers will also enjoy the expert advice of Zurena's mixologists. The family-owned business has a legacy of three generations in the art of cocktail making. The brand has a vast selection of cocktail recipes available, including unique Zurena-pioneered drinks like the Chai Chai and Lucy.
Some of these recipes can be accessed at https://www.myzurena.com/recipes/chai-chai
They have also developed new takes on classic cocktails like the Mimosa, Mule, and Sidecar. The Zurena Sidecar uses just 2 oz cognac, 2 oz Zurena Tropical, 1 large ice cube, and orange peel to create a simple drink that happy reviewers have called absolutely delicious.
For those who don't consume alcohol, the mixers have also been created with mocktails in mind and can be easily added to club soda, teas, juices, and crushed ice for a simple but refreshing spring and summer beverage.
Zurena is a passionate minority- and family-run business. The founder, Nigel Vaughn Smith, started the business in order to honor his grandfather, a famed Caribbean mixologist, and to share his family recipes with the world.
Nigel Vaughn Smith Stated, "Our all-natural drink mixers do all the work for you. No additional ingredients are necessary. Simply add them to your favorite white or dark spirit, wine, bubbly or beer and you have an instant high-quality handcrafted cocktail. Don't drink alcohol? No problem. These mixers can also be used to make instant high-quality handcrafted mocktails. Whatever your pleasure, Zurena brings passion and excitement to your taste buds."
More information is available at https://www.myzurena.com/become-a-partner
Release ID: 89067176