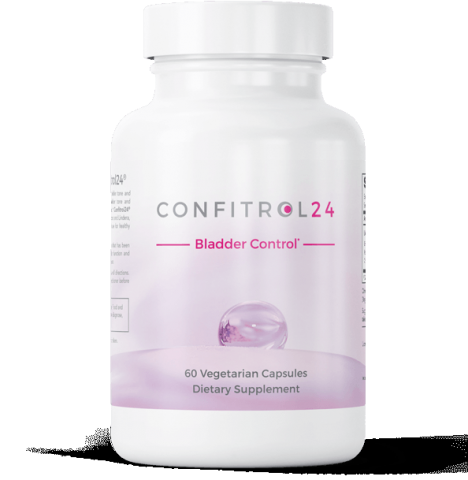 - January 25, 2021 /PressCable/ —
Leading Edge Health, an online health and nutraceutical business, has launched a women's urinary incontinence formula supplement called Confitrol 24. The natural product is designed for women who are seeking relief from overactive bladder and urge incontinence.
More information is available at https://www.confitrol24.com
The product was launched by Leading Edge Health in an effort to give relief to sufferers of urinary incontinence.
Approximately 17% of women over 18 have overactive bladder (OAB) and an estimated 12.2 million adults have urge incontinence. One out of every five adults over 40 years old experience signs of OAB or recurring symptoms of urgency and frequency. Both conditions affect women twice as frequently as men and become more prevalent with age.
Urinary incontinence can present serious risks such as an increased amount of repeated urinary tract infections. This is a result of the bladder never being able to completely empty and can potentially lead to kidney damage over time.
Many factors such as childbirth, menopause, and certain medical conditions contribute to urinary incontinence in females. Many individuals, who suffer from the condition, report feeling hopeless. A high percentage of those affected limit their social gatherings due to fear of having an accident. Leading Edge Health aims to provide comfort and reassurance to those individuals with their new urinary immune product Confitrol 24.
Confitrol 24 is a natural supplement that is clinically proven to combat urinary incontinence without requiring a prescription. The supplement is designed to promote a healthy bladder and urinary system by utilizing a synergistic blend of herbal ingredients. It is intended to reduce the urgency that too often results in embarrassing leaks.
A clinical research study found that consumers that took two capsules daily for two months had a sixty percent reduction in occasional urinary incontinence and experienced less urgency to urinate throughout the day. Seventy-five percent of users also reported reduced dependency on pads.
A spokesperson for the company stated: "Our unique, patented formula works at the fundamental level to improve the strength and tone of the muscles in the pelvic floor and sphincter."
Interested parties can find additional details at the above mentioned website.
Release ID: 88994975