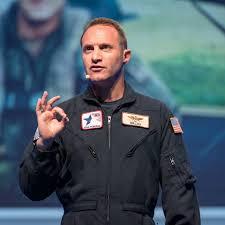 - September 23, 2020 /PressCable/ —
Robert "Waldo" Waldman is a New York Times best selling author, Air Force Academy graduate, combat decorated pilot, member of the Speaker Hall of Fame, and Certified Speaking Professional. He has worked with numerous clients such as Dell, Verizon, the Denver Broncos, Caterpillar and Siemens. Waldo has been a keynote speaker and executive coach for the last 18 years. He is an expert in resilience, change management and peak performance. He also offers training programs on sales and leadership. He has been featured in numerous publications such as CNN, Inc, Harvard Business Review and Bloomberg Businessweek.
The Covid-19 pandemic has seen a big increase in virtual sales due to social distancing measures. Waldo works with various sales teams to streamline various skills such as coordination of teams by leaders, video conferencing and how to read and use non-verbal cues over video platforms like Zoom or Skype, building resilience while working remotely and developing & inspiring trust.
Here is a video overview of Waldo: : https://www.youtube.com/watch?v=jed62wyWr-4
Waldman, currently based in Atlanta graduated from the Air Force Academy. He spent 25 years in the active duty Air Force and Reserve as a F-16 fighter pilot and pilot training instructor. He was a combat pilot who flew 65 missions and logged 2,650 flight hours. He was deployed in SE Asia, Iraq and Kosovo. He retired as a Lieutenant Colonel. Waldo worked in business consulting, technology sales and mergers &acquisitions.. In response to a question on the driving force behind his success, Waldman said that it really boiled down to the desire to be truly world class and create a unique brand.
When asked about his business principles, Waldo said " I apply the fighter pilot state of mind to my business. It is a spirit of top notch execution and a dedication to distinction in all that I do. The key to victory in business comes down to trust. It is confidence in yourself, reliance on your wingmen and faith in leadership. A collaborative mindset leads to a drastic increase in personal and organizational effectiveness."
The A.C.E. Leadership Program is a year long weekly video series that aids in constructing a flight plan to devote to excellence, adjusts to change and shatters performance roadblocks. It prepares people to apply the tools and methods that Waldo used in the Air Force in their daily lives.
Find out more about the A.C.E. Program here: https://www.yourwingman.com/ace/
Waldman reflected on actions that anyone can apply to be seen as an authority in their space and summed it up as follows. Focus on being a resource that other people can come to for help which yields reputational capital. Join great mastermind groups and continually invest in self improvement. Consistently strive towards excellence, not letting failures or negative experiences detract from your goals. Lastly, constantly put like minded people together who can help each other.
Further information can be found at https://www.yourwingman.com
Release ID: 88977543