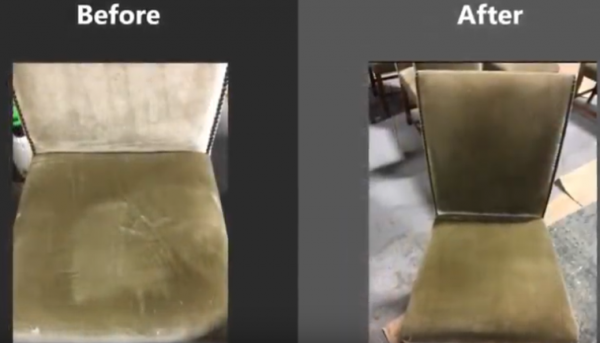 - February 8, 2019 /PressCable/ —
New Dimension Fabric Protection & Cleaning has announced upgraded Viscose Cleaning, Protection, and Viscose Upholstery Cleaning.
New Dimension Fabric Protection is improving Viscose Upholstery Cleaning and is designed to make life easier for Homeowners including:
Anthony Miklaszewski, owner of New Dimension Fabric Protection and Cleaning completed a course given by Jim Pemberton of Pemberton's Cleaning/Restoration Learning Center in McKeesport PA to advance his knowledge in fine fabric upholstery cleaning. With all the semi-synthetic fibers, such as viscose that has entered the fine fabric industry there has been an outcry from designers and clients for someone with the ability to clean, care for and protect their upholstery. This is why New Dimension Fabric Protection is setting the standard for cleaning and fabric protection in the Boston area. Anthony attended this course given by Jim Pemberton so that he could answer that cry and be able to provide his customers with the latest and safest/surest way to care for their rugs
"We as a company must keep growing in customer service. We must be able to solve the problems that arise with the new fibers that are coming onto the market. Our designers count on us to support them and their clients says Anthony
The changes in this Viscose Correction, Cleaning and Protection were bought about due to the semi-synthetic fibers, such as rayon viscose, into the fine fabric market. As part of an ongoing effort to improve the user experience for Viscose Upholstery Cleaning, customers can expect regular updates both now and in the future.
A full list of changes to Viscose Upholstery Cleaning can be seen on the company's YouTube, https://www.youtube.com/watch?v=cx-jtfCTBEk.
Anthony explains "Our mission is to provide the most outstanding service experience ever. This is why our professional upholstery cleaning technicians attend continuing educational courses. It is hard to believe that less than 3% of the cleaning industry even send technicians to continuing education. This is why we choose to further education with Pemberton's who has been leading the cleaning and restoration industry for the past 45 years."
About New Dimension
New Dimension Cleaning & Restoration Inc. was founded in 1989 by Stanley and Anthony Miklaszewski. Providing clients in Massachusetts and New England with carpet cleaning, upholstery cleaning and fabric protection services. New Dimension is setting a new industry standard with superior customer care. Their promise to every customer is "The Most Outstanding Service Experience Ever"
For more information about New Dimension Fabric Protection & Cleaning, please visit them at https://www.mypureprotection.com
Release ID: 480515