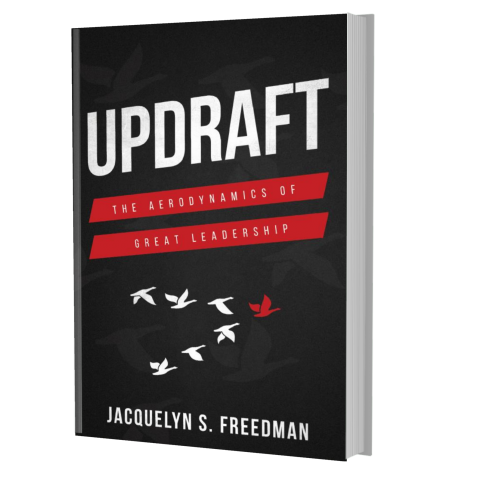 - January 22, 2020 /PressCable/ —
FLEMINGTON, N.J.— Watching Canadian geese fly in formation is an inspiring sight. But for Jacquelyn S. Freedman, who lives in the path of the Canada geese's Atlantic Flyway, it was something even greater: inspiration for a book on leadership.
While observing hundreds of geese, Freedman was struck by the way they continually adjusted their positions to maintain their v-formation. Her research discovered how each goose supports the progress of the flock with the updraft that comes off its wingtip. It was, in her view, a perfect metaphor to the role of leadership and its impact on business success.
Freedman, who prefers to be called Jackie, released the second edition of her highly acclaimed book, "Updraft: The Aerodynamics of Great Leadership" on January 14, 2020. The first edition of "Updraft" was widely acclaimed and highly regarded, earning praise from Shaun Van Vliet, managing director, Consilium Associates, Merrill Lynch, Pierce, Fenner & Smith Inc. who called the book "An engaging, insightful, fresh look at great leadership," and touted as "a provocative read" by Mike Michalowicz, author of "Profit First."
The second edition of "Updraft" will feature a new foreword written by Frank Vastano, director of Merck Research Laboratories Information Technology (retired). Freedman hopes that the book's message will help lead organizations of all kinds to new heights through understanding the concept of updraft.
"Few leaders consider how their own behavior affects employees' engagement, performance and corporate results." Freedman explains, "Leaders who don't understand the principle of updraft expend far too much energy — and in the wrong places. No wonder they are exhausted and frustrated!"
Jacquelyn S. Freedman is a leadership expert who specializes in aligning and energizing leaders and their teams. She is a consultant, high energy speaker, facilitator and author. She has worked with a wide variety of businesses including Merck & Co., ShopRite, Dun & Bradstreet, Wiss & Co. and J.P. Morgan. She earned her master's degree in business from Rutgers Business School and her bachelor's degree from Tufts University.
"Updraft: The Aerodynamics of Great Leadership" was released on January 14, 2020. ISBN: 978-0-9861560-1-4, $15.99
For more information on Jackie, her business consulting company, Delta V Strategies and "Updraft" please visit www.DeltaVstrategies.com.
Release ID: 88943659