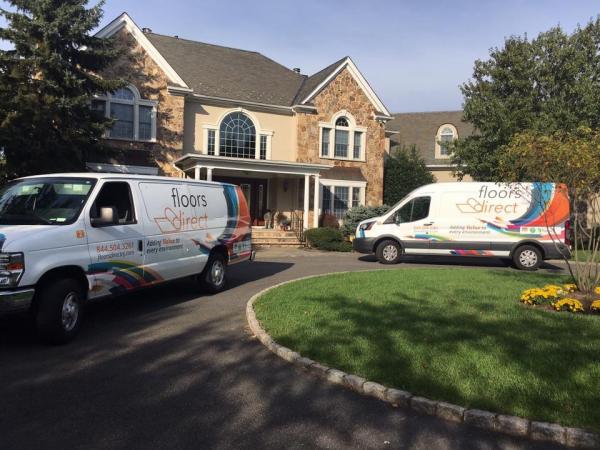 - May 7, 2021 /PressCable/ —
Floors Direct LLC spoke today about their unique luxury shop at home designer carpet & flooring service in New Jersey. The company has been steadily growing year after year and some say they are the best kept secret in the NJ flooring market.
They told us how their goal has always been, "to add value to every environment", as their company motto states. Their specialty flooring service allows people to conveniently shop from their home or office for new designer carpet, hardwood flooring, and luxury vinyl flooring, but it does so with a couple of key differences.
Pete Kelly, Owner at Floors Direct LLC, stated, "We wanted to try something new. Our service is so different from anything out there in the local flooring scene today that I would prefer us to be put in our own category. I like to say that we are not a "shop at home" flooring company, we are New Jersey's "shop from home" designer carpet and flooring service".
One big difference is that their mobile showroom carries designer carpet styles & flooring name brands that they say would typically only be seen by appointment at a designer flooring showroom. "You definitely will not see these products from any other so-called shop at home flooring companies in New Jersey. These are more fashion forward, sophisticated, higher-end product lines and brands like Stanton, Fabrica, Helios, Karndean, Lauzon, and a lot more", said the proud CEO.
Aside from their long list of high quality, designer flooring products, this company prides itself on its incredibly high level of service and integrity. They like to take the time to educate their clients on the best product options for their space and individual requirements. Pete Kelly revealed, "It's all about creating happy clients and maintaining 5-star ratings & reviews on Google, Facebook, Houzz, Angie's List, Home Advisor, BBB, and across the web."
Floors Direct LLC chose to make this move because they wanted to turn the "shop at home" flooring model on its head. They cater to what they consider to be an underserved clientele that is looking for a more customized, personal, experience to meet their specific needs for higher end products.
"The whole company is about bringing old fashioned values like honesty, integrity, service, and craftsmanship back to the New Jersey flooring industry.", said Jennifer Kelly, who is Pete's wife and the company's customer care representative.
They continued to say how anyone familiar with the shop at home carpet & flooring companies in New Jersey would say that their competition seems to just carry your everyday, run of the mill, low to middle end carpet & flooring products and that they seem to sell them at a high mark-up.
Without naming names, they also claimed that some of their competitors use a variety of questionable marketing and advertising tactics. They also warned of commission only independent sales contractors that they say have sometimes been trained to be "notoriously unscrupulous".
Floors Direct believes that this poses a big problem for unaware consumers. Of their competitors that sell based on claims of being the lowest price or the smart choice, they say many times these companies come in quoting exceedingly high prices. He added, "They may negotiate down multiple times if you're tough and persist on haggling, but that doesn't seem like a smart carpet & flooring company choice".
He also cautioned about "next day flooring installation". He says the whole notion that people really need this is ridiculous and rarely if ever necessary. In his words, "Next day installation is merely a ploy to sell more stock carpet & flooring. These companies buy in bulk, and it is usually boring, overpriced, low grade inventory. They try to force a next day installation on folks as a way for them to get in and get out before the customer even realizes that they seriously overpaid for an inferior product. Maybe that is how to build an empire today."
Mr. Kelly continued, "You won't see crazy buy one room get two rooms free sales, or free whole house installation offers from this company because those types of deals can be very misleading. Consumers need to avoid getting confused by these types of offers. In most cases, they can just look at the bottom-line price of the contract to know if they are truly getting a deal, in most cases, they are not. If they are saving money, they are usually sacrificing quality and service. Honestly, Floors Direct has never run a sale since its inception because there is no need for fake sales and scarcity. Floors Direct clients get a fair price for an extraordinary service, and all of the company's 5 star reviews back that up. The mission is to always meet or exceed deadlines and client expectations. All installations, which are done by professional in-house flooring experts, are 100% guaranteed".
Floors Direct is a family business, and they treat their clients like they are a part of the family. Pete Kelly has personally been serving the flooring industry for over 35 years. His aim in starting Floors Direct LLC was to help as many New Jersey residents as possible to add value to their environments through a white glove, no pressure, educational style, carpet & floor buying experience. This has been the key to their storybook success.
With this one-of-a-kind designer carpet & flooring service, NJ homeowners and business owners have a fresh new possibility. To find out more about Floors Direct LLC, visit https://www.floorsdirectnj.com
Release ID: 89009042