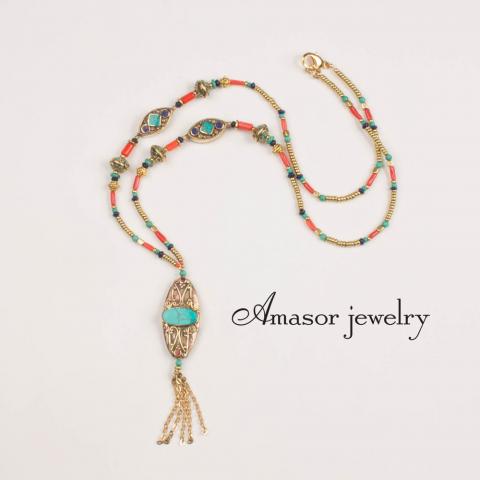 - January 17, 2022 /PressCable/ —
The entire Amasor Jewelry collection, From Ethnic to Elegant to Everyday, is designed, created and made by the company's owner, Amy Masor who is based in Los Angeles. Products on the website are divided into categories, the main ones being Necklaces, Earrings, and Bracelets, which are then subdivided into categories such as Gold and Silver. In addition to novel Ethnic designs spanning a variety of cultures, one can find classic and elegant designs and everyday jewelry, especially the many Sterling Silver and Gold Earrings. Product information offers descriptions and relevant specifications, and sometimes includes symbolism or cultural information. The pieces are mostly one of a kind, perfect for the woman looking for unique and original designs to express herself.
More details can be found at: https://www.amasorjewelry.com
Jewelry has been celebrated since time immemorial for its almost unparalleled beauty and elegance. It has been used to signify and adorn royalty, and to demonstrate love and affection across cultures, with both traditions continuing until this day.
Amasor Jewelry offers classic and more traditional designs like those found under Pearl Necklaces such as The Coin Pear and Swarovski Crystals Necklace and Earrings https://amasorjewelry.com/product/coin-pearls-and-swarovski-crystals-necklace-and-earrings, or The Long Pearl Necklace with Green Tiger Eye which can be doubled into a short necklace https://amasorjewelry.com/product/long-pearl-necklace-with-green-tiger-eye-sz-collection.
Amasor Jewelry also caters to eclectic and adventurous tastes in its Ethnic category, ensuring customers have access to fresh and exciting products. For example, The Hill Tribe Silver Fringe Collar Necklace https://amasorjewelry.com/product/hill-tribe-silver-fringe-collar-necklace exemplifies Amasor Jewelry's dual appreciation of basic design and the exotic.
A satisfied customer glowingly said: "I've been a long-time customer of Amy's. I've purchased numerous pieces for myself and as gifts. Amy's creations generate so many compliments because they are unique and always elegant. Her pieces are my favorites in my collection."
All interested parties can find further details about Amasor Jewelry at: https://www.amasorjewelry.com
Release ID: 89059969