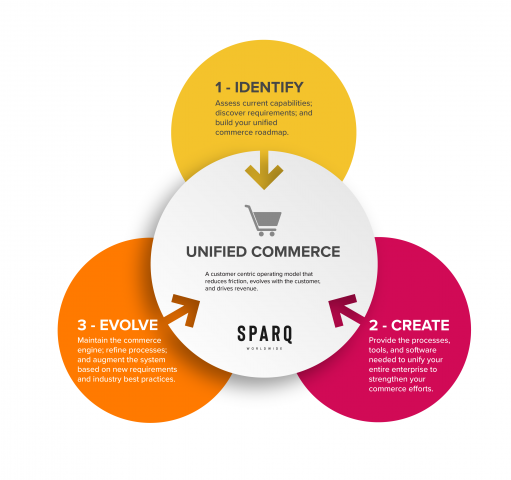 - July 10, 2020 /PressCable/ —
Sparq Worldwide, a company focused on business process optimization, e-commerce implementation, and custom software development to increase customer success for the retail industry, has launched a new expert report on unified commerce solutions.
Find out more at https://www.sparqworldwide.com/blog/2020/6/23/unified-commerce-what-it-is-amp-why-you-need-it
The resource highlights how unified commerce solutions, aimed primarily at the retail industry, can help brands, retailers, and designers to foster customer loyalty in an organic way. The expert team behind Sparq suggest the retail industry must be reinvented to effectively respond to the expectations of customers today.
Brand loyalty is today driven by great customer experience, which can lead to impulse purchases. Consumer choice has never been as great as it is today, and while past markers of differentiation like inventory, selection, price, convenience, and quality have been historically important, they are less so today.
Online shopping and a reliance on digital devices for all aspects of life has enabled consumers to find the product they want quickly and efficiently, at a price they are happy with, delivered in an acceptable time frame.
The digital revolution means brands must implement connected solutions that meet the needs of consumers. Unified commerce provides the ability to manage a business through a single platform or software designed to link all the different business elements.
Once a unified system is created, it needs to be maintained, refined, and improved. Security is crucial, as it can help to foster consumer trust. A unified system should be viewed as a fluid system that requires constant monitoring and adaptation so brands can best meet the needs of their customers.
Furthermore, it should be viewed as a unique and custom-built platform for each brand or company. A one-size-fits-all approach does not exist in this scenario as each brand will have different customers, with different needs.
A company spokesperson said: "In order to compete, survive and thrive, businesses must have the capability to conduct commerce through a multitude of connected devices in a way that creates on-brand, real-time, seamless, frictionless processing of data and transactions. Here at Sparq Worldwide, we can do that and more."
To find out more, interested parties are invited to visit the website provided.
Release ID: 88967843