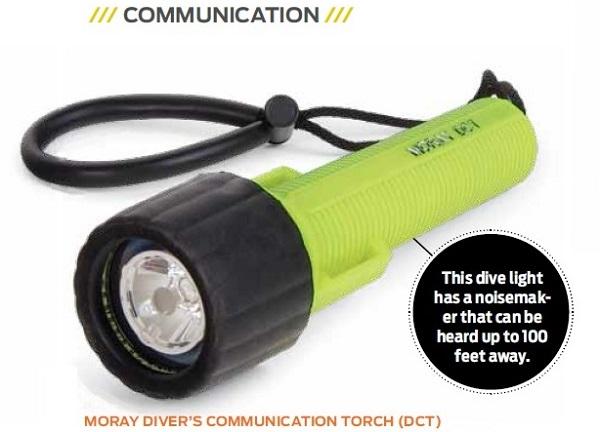 - December 1, 2020 /PressCable/ —
Moray Dive Gear and Tektite reinvent the dive torch with the Moray DCT, the innovative dive light with a built-in noisemaker.
Moray Dive Gear and Tektite have teamed up to create a practical and afford dive light.
Moray Dive Gear and Tektite have come together to develop a travel-friendly scuba diving light – the Moray DCT – a powerful dive light with a patented built-in noisemaker. Buyers in the U.S. can purchase the dive light directly at www.moraydivelights.com/collections/products.
The Moray DCT 2in1 dive torch with an integrated signaling device is the first dive light of its kind to hit the market. With Tektite's trademark "Made in the USA" high-quality products and Moray Dive Gear's simple Canadian design, the Moray DCT is for divers who want to travel light and improve their streamline position without compromising on light output.
"We focused our attention on the reasons why many divers don't consider a dive light a must-have accessory to their dive kit: high-cost, redundant-technology, and poor design. By teaming up with Moray Dive Gear, we've finally been able to fix these problems," said Scott Mele, CEO of Tektite Industries.
The Moray DCT represents the combination of Tektite's leading flashlight LED technology with Moray Dive Gear's innovative concepts for practical day-to-day use, enabling them to more deeply connect with divers and meet their needs.
The result is a fusion of power and versatility with enhanced durability – ideal for divers of all levels looking for a simple and reliable dive light or a handy back-up light for both day-time and night-time dives.
"Today, we have scuba diving lights that are not only affordable but are also durable and – more importantly – relevant to modern-day divers' needs. Our dive lights have an extended burn time with hours of power supply to make your dive safer and more enjoyable," concluded Mele.
Moray Dive Gear ships to all US states, including Hawaii, Guam, Puerto Rico, and all US territories.
Anyone interested in having a look for themselves and ordering a dive torch can visit https://moraydivelights.com/.
For more information about Moray Dive Gear, its partnership with Tektite, and its collection of scuba diving lights, please email
Release ID: 88987955