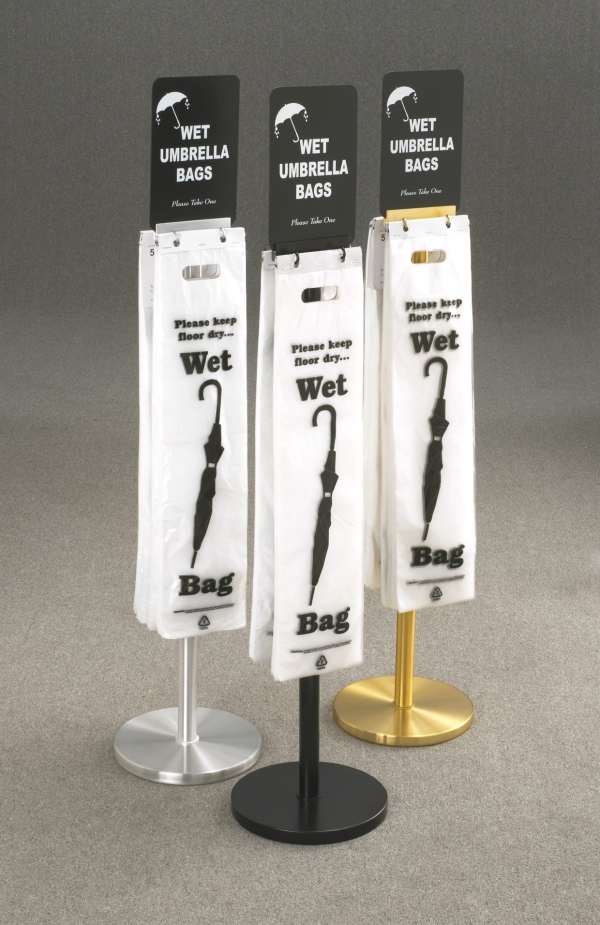 - February 19, 2016 /PressCable/ —
Futurekits is offering another one of Glaro Products items. It is an item that is popular at this time of year. Umbrella Master Wet Umbrella Bag Holders.
Everyone has a wet umbrella. How can this be dealt with it? here is the solution: put it in a Wet Umbrella Bag. Guests and visitors will be thrilled to see an Umbrella Master Wet Umbrella Bag Holder in the lobby.
Umbrella Master Wet Umbrella Bag Holders are available as a free standing unit to hold wet umbrella bags. It stands 3 ½ feet tall with an 11 inch base. It can fit between the in and out doors of lobbies or it can be placed in the corner. Umbrella Master Wet Umbrella Bag Holder is also available as a wall mounted unit to hold Wet Umbrella Bags.
Optionally,there is an 11 inch by 7 inch sign that reads Wet Umbrella Bag, That are available below. The bags are available in packs of 100 and will fit standard and tote Size umbrella.
Glaro says: Wet Umbrella Bag Holders Wet floors are slippery and may result in slip and falls and injuries. Help keep floors clean, dry, and safe, as visitors enter indoor areas. Glaro's solution to managing dripping wet umbrellas. Glaro manufactures the most comprehensive selection of attractively designed, all aluminum wet umbrella bag holders. Choose a floor standing, wall mounted, or crowd control post mounted bag holder available in three durable rust/tarnish-proof finishes – satin aluminum, satin black, and satin brass. Place Glaro Wet Umbrella Bag Holders in lobbies, entrances, parking garages, coat check areas, and by elevators, and escalators too. Made in the USA.
To get more information about Umbrella Master Wet Umbrella Bag Holders and packs of 100 Wet Umbrella Bags please visit This information page
Click here for more about this site.
Release ID: 104321