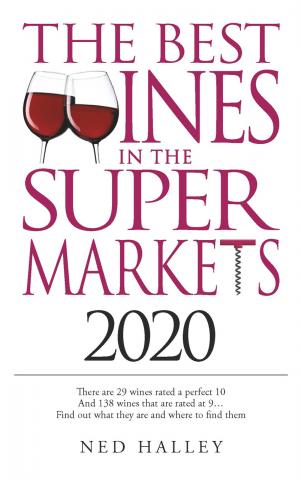 - November 4, 2019 /PressCable/ —
This is the guide every wine drinker really needs. While other wine books transport you to the classic vineyards and cellars of the world, Ned Halley's The Best Wines in the Supermarkets 2020 takes you straight to the wines most of us actually drink, picking out the very best at the very best prices. On sale on Amazon at less than top-scoring red Hereford Tempranillo 2018 – £7.00 – this pocket-size volume is a bargain in itself.
The author, Ned Halley is an award-winning wine columnist. In addition to this biggest-selling, UK wine guide, he also wrote, Absolute Corkers, commended by The Times as "a lively romp through the world of wine"
70% of UK wine is bought in supermarkets, where the award-winning wines are sold. So, that's where his tasting is focused. And he's found it's been a vintage year for good wines. From the couple of thousand wines tasted, Halley has lavished maximum points on forty-one wines – a record annual count.
Here is an Amazon review for the 2019 edition. It highlights the personable nature and honest review that Halley gives you. Remember, he's been writing like this for 17 years and for 1000's of fans. "I buy a copy of Ned Halley's supermarket wine recommendations every year and am never disappointed. His ability to sus-out worthwhile wines from the daunting array of bottles on the shelves is a Godsend. Through him I have discovered grape varieties, regions and countries I would never have risked without his pithy words to guide me. How he manages to make it both informative and witty year after year is miraculous. I never venture into the wine aisle without it."
And this is more than a book. It has its own exclusive web-site. On it, are another two thousand Gold and Silver Medal Winners, from The International Wine Challenge and Decanter World Wine Awards. Updated through the year, it helps you to search wine styles, save wines to your own Cellar and make personal notes, about what you like best, and why.
Here are the best Reds, Whites, and Sparkling wines for the festive season. A good wine doesn't have to cost more than £5.00. And lots of VERY good wines come in at £7.00. So, use this guide early, to plan for a better family Christmas. And, if you want to bring in the New Year with that BEST BOTTLE of BUBBLY, become one of Halley's loyal readers, to find out what it's called.
—
W. Foulsham & Co. Ltd has been publishing since 1819 and are still very much independent. That's two hundred years of publishing – a long time by any standard. Our publishing has always been focused on meeting consumer needs. For this reason, our title list has built itself into a very practical range that provides solutions or applications, meeting the everyday needs of a community.
Release ID: 88931737