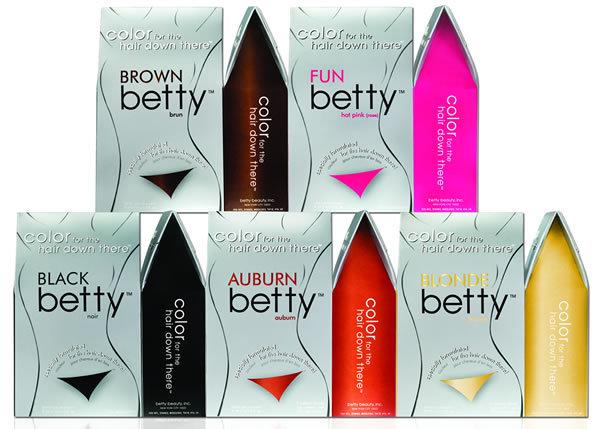 - November 24, 2018 /PressCable/ —
Betty Beauty products – color dyes for the hair down there. Betty products have been specially created for colouring bikini / pubic have. Betty have used natural ingredients like Elder Flower, Cherry Bark, Chamomile, Comfrey, Rosemary and Aloe as well as special conditioners not found in current hair color dyes. No-drip crème formula ensures that when used correctly, Betty color won't run into the sensitive area. The dyes DO NOT contain PPD or ammonia.
Customers are using Betty to naturally match their hair above, cover gray or just for fun and men use it for facial and chest hair. Most men and women color their hair down there when they color their head hair.
Betty products also do not contain Ammonia or Parabens. (BLACK/BROWN/AUBURN colours contain the lowest % of PPD than other dyes currently on the market). The products have 1-2+ applications in each kit and colour lasts for about 4 -5 weeks.
Perspiration and physical activity will not affect Betty colors. The colours work well on all hair types no matter how dark or coarse the hair is.
Customer Reviews:
"Does what it says on the pack ,colour lasted about 5 weeks ,enough for a few applications"
"This amazing dye is life changing!! I mean no one wants to have gray hair downtown especially when you are not at that age yet It does not burn or itch but of course you must follow the instructions to apply the dye. Game changer and a great invention!"
"I've used this for several years and continue to love it. No gross smell, and couldn't be easier to mix up and apply. I only use it 2-3 times a year as a few white strands begin to reappear. I put it on just before jumping into the shower where it rinses off right down the drain. It completely covers grey and blends perfectly with my dark brown hair. It's just a small thing I do in the name of vanity, which is hilarious because I do not color the hair on my head."
Release ID: 441913