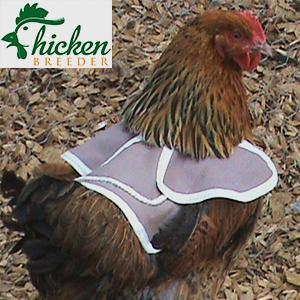 - October 26, 2020 /PressCable/ —
Chicken Breeder, a small company in England that is dedicated to safe chicken breeding has launched its winter line of handmade hen protectors. Hen protectors project female chickens from the talons and biting that often occurs during mating. These sturdy handmade hen protectors come in a variety of designs and colours.
For more information see https://chickenbreeder.co.uk/blog
The launch of these Chicken Saddles, also known as Hen Aprons was begun eleven years ago. This small company has grown to a level where it is now capable of fulfilling large and small orders and is shipping chicken saddles all over the world.
The main poultry saddle being sold is the famous Butterfly Saddle with Wing Protectors and now for the cold, the company has released a fleece line version of this bestseller. It comes in various sizes and can be customised according to buyer's preferences. The shop is also making turkey saddles and markets a broad range of poultry products including poultry tonics. They offer bespoke sizes and designs for all types of wildlife.
Chicken Saddles are designed to protect the chicken's skin and feathers from infection and damage which can happen when mating. The roosters will peck at the site of an injury even more if they can see red and kill the chicken. These handmade chicken saddles are a hen saver because they protect chickens from feather loss and cover up injuries.
The feathers of hens can break during the act of mating and once the feathers are broken, the skin can be accidentally punctured, when this happens, the other chickens may be tempted to peck at her, and this may lead to a critical injury. This is where the chicken saddle is needed as it reduces the possibility of the feathers being broken and protects the back of your birds.
There is a wing strap on the saddle with a snap to make fitting easy, the birds can move freely and it fits well round their wings. To remove the wing strap, undo the snap and carefully pull the feathers through it. The poultry saddle does not hinder the bird from enjoying herself. She can continue her normal behaviour such as dust bathing, and flapping her wings, running, eating, and drinking.
An instructional video has along with the release of the winter line of chicken saddles. It shows the saddle being placed on a hen and the Velcro pads being attached around the wing.
As the launch of the winter line of these simple and important chicken protectors begins, Denise, the owner of Chicken Breeder hopes they save thousands of birds across the globe.
To order see https://www.ebay.co.uk/sch/magic-pony1/m.html
Release ID: 88982458