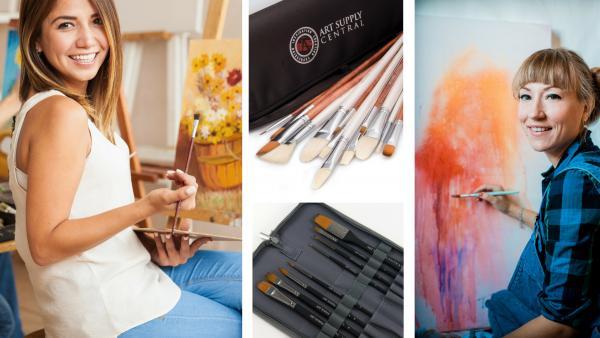 - April 15, 2021 /PressCable/ —
Art Supply Central, a UK-based artist supply brand, has launched a finely crafted set of brushes. These brushes can be shipped within the United Kingdom or European Union, or to the United States.
More details can be found at https://www.amazon.co.uk/Artist-Synthetic-Brushes-Watercolour-Guarantee/dp/B00KEW480M
Art Supply Central has launched this 13-brush set for artists who are particular about the tools they use. They are non-shedding, completely handcrafted, and have color-coded handles showing the medium for which they are intended.
An artist needs to feel comfortable with the brush being used. These brushes have elegant, long, smooth, beechwood handles. The set contains 6 synthetic bristle brushes for watercolor and acrylic painting and 7 natural bristle brushes for oil painting.
Each brush is individually packaged, and a variety of shapes are included such as flat, round, fan, and filbert. They are placed in a stylish holder with a magnetic closure that will protect the brushes, make them easily portable, and provide easy access while painting.
In addition, each set contains an extra fine detail brush, and a free eBook for beginning artists can be requested. The packaging, variety of brushes, and eBook make this set an excellent gift option for the budding artist.
These non-shedding brushes have a strong paint-holding capacity and can create a detailed, sharp finish. The brushes come with a one-year guarantee and have earned five-star reviews from consumers.
Each brush has been designed by artists for artists, and the maker has 100 years of experience in brush production. The seamlessly fitted aluminum ferrules hold each brush hair in place and prevent shedding.
These brushes are recommended for anyone who wishes to invest in quality, comfort, and a range of sizes, and also have brushes suited for different types of painting. The soft tips are excellent for blending colors.
A satisfied artist says, "I received delivery quickly and the brushes were in wonderful condition. I am very pleased with the quality of these brushes. The card within the pouch also comes with a small set of instructions for brush aftercare, which is important for the beginning artist."
Interested artists can visit https://www.amazon.co.uk/Artist-Synthetic-Brushes-Watercolour-Guarantee/dp/B00KEW480M to learn more.
Release ID: 89005357