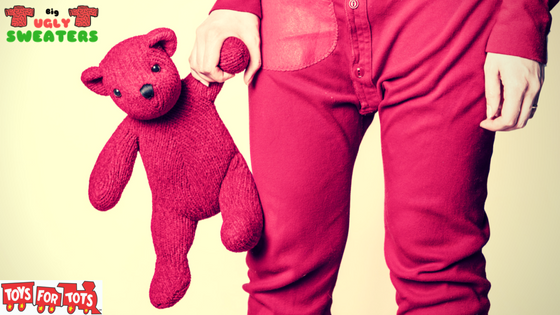 - November 9, 2016 /PressCable/ —
In a unique change of pace, Online Retailer "Big Ugly Sweaters", (of https://www.biguglysweaters.com)will be celebrating the launch of its Ugly Sweater Collection by giving 10% of their net profits to Toys For Tots. It's reported the event will take place on Thursday November 10th .
In a space where most competitors simply keep 100% of their profits, they fail to cause much of a stir, Big Ugly Sweaters has opted to be a little more unique with it's Christmas Sweater launch.
Zach Pelley, Founder at Big Ugly Sweaters, says: "We wanted to be unique with our Sweater launch because we think it's important to give something back and help kids in need.
Our Ugly Sweater Collection should be really worthwhile and we're hoping our donations will bring our customers and children a lot of happiness.
Big Ugly Sweaters has always thrived on the idea of standing out and making a commotion. It's all part of the fun. We want to give work a little bit more of a purpose and we think we do that better than businesses who choose to do things the 'regular' way. This launch celebration is just one of the many ways Big Ugly Sweaters achieves that goal."
When asked about Ugly Christmas Sweater Collection, Zach Pelley said: "We think it's going to be a real hit because no one else makes sweaters bigger or uglier than us".
The best selling items on Big Ugly Sweater are the festive Christmas themed sweaters and come in many varieties for men and women. One of the most popular sweaters featured is the Harambe Holidays Crewneck sweater. It has a nordic theme featuring Harambe with a Santa hat on surrounded by bananas, and at the bottom it says "Harambe Holidays". The word play is terrific. Another popular sweater is the Women's Rudolph Light Up Sweater that has candy cane striped arms, a green trim and a large cartoon Rudolph in the center complete with a light up nose. In the men's section there are traditional nordic style sweaters with a twist such as the Men's T-Rex Sweater that has a green t-rex wearing its own Christmas sweater emblazoned on the front.
Continuing the Christmas theme there are plenty of other festive products stocked. There are several varieties of socks with Christmas designs available for both sexes and they include the Knee High Christmas Socks that come in a pack of four. These socks come in different designs such as candy canes and snowflakes. There are also novelty necklaces that resemble Christmas fairy lights and feature 26 multi colored flashing bulbs.
Ugly Christmas Sweater Collection is set to launch Thursday November 10th . To find out more, it's possible to visit https://www.biguglysweaters.com/pages/about-us
For further information about Big Ugly Sweaters, all this can be discovered at https://www.biguglysweaters.com/
Release ID: 144466