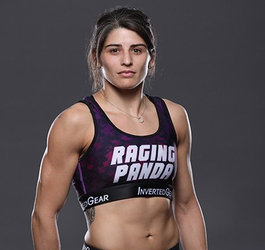 - May 16, 2021 /PressCable/ —
UFC Fighter Julia Avila has signed on as part of the principal cast of the feature film "The Squad." The film will be directed by Rick Walker and produced by Lisa Faast later this summer.
Avila, known to UFC fans as "The Raging Panda" is a mixed martial artist and currently the #15 ranked bantamweight in the world.
Walker talked about Avila stating, "We're excited about getting Julia in our movie as she brings a unique combination of femininity and toughness to the role. She has a tremendous amount presence and loads of personality as you'll see when 'The Squad' is released next year.
Regarding her specific role, Walker stated, "She's gonna be great! You'll just have to wait and see, but she'll bring her A-game to every scene just like she does in the ring!"
Avila commented, "When I read the script, I loved it! I'm very excited about it!" Her next UFC fight is scheduled for June 26th in Las Vegas.
Avila is the first cast announcement from the production team at State 46 Films, but Walker mentioned that casting is currently "in overdrive and moving full speed ahead."
When asked more specifically about the film, Walker stated, "The Squad is set during spring break and focuses on three seemingly innocent young ladies who are actually ruthless drug-runners. They move their operation to a new, off-the-radar spring break location every year. It's not for the feint of heart. The first scene of the movie is pretty intense and it only amps up from there!"
State 46 Films also announced Sydney Stephenson has signed on to produce. Walker, Faast and Stephenson recently teamed up on the feature film "Second Chances", which is currently in post-production and scheduled for release later in the year.
"The Squad" will film during the months of July and August throughout Oklahoma with a release likely in early 2022.
Release ID: 89015293