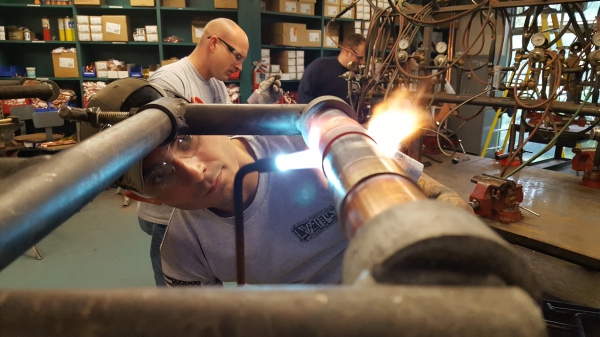 - November 22, 2017 /PressCable/ —
The United Association Veterans in Piping Program (UAVIP) is proud to announce that on November 16, a combined 18 transitioning military service members graduated from the Joint Base Lewis-McChord Welding and HVACR Programs.
Specialist Johnathan Guerra from Welding Class 13 spoke during graduation ceremony and was grateful for the opportunity to be in the program and security it offers him.
"The program has not only given me the skills, but also the tools needed to carry forward and achieve a successful and bright future after the military. Separating from the military is never an easy thing, and at times it's quite scary, but with the help and support from everyone involved in the program, it has helped to make it a painless and smooth transition into the civilian world and the United Association family."
Once discharged from active military service, the soon-to-be veterans will have jobs waiting for them with a UA contractor in an agreed-upon geographical area. In addition to jobs, UA VIP graduates also enter a UA apprenticeship program during which they undergo additional training in the pipe trades to become journeymen and journeywomen.
Welding Class 13 graduated one member of the Navy Reserve, one from the Airforce and seven from the Army. HVACR Class 12 graduated seven members of the Army, one from the Navy and one from the Airforce.
UA VIP Administrator Mike Hazard said the students should be proud of their hard work, which has positioned them to succeed when they start their new jobs.
"The VIP graduates of Welding Class 13 and HVAC-R 12 have proved through their hard work and dedication over the past 18 weeks that they are ready to make an immediate impact with their newly developed skills in their new careers as UA apprentices, and we wish them the best of luck," said Hazard.
HVAC-R Instructor Dave Gibson commended the students on their hard work and dedication during the program.
"HVAC-R class 12 is an outstanding class, they learned quickly and completed all certifications," Gibson said. "They will be placed across the United States: Washington, California, Maryland, Virginia, North Carolina and Georgia. They will be a great asset to their locals and to the United Association as they move forward into their new careers."
The UA VIP Program operates on eight military bases throughout the country. Active-duty members of the U.S. Armed Forces who are preparing to transition out of the service are eligible to participate in the free program and receive career training in one of three pipe trades: welding, sprinkler fitting or HVAC-R. Paid for solely by UA members, the UA VIP Program was created to help reduce the amount of unemployed military members, while also addressing a growing shortage in the construction industry of skilled workers due to the combined effects of an aging workforce, increased demand and a lack of skills training for youth.
Release ID: 267151