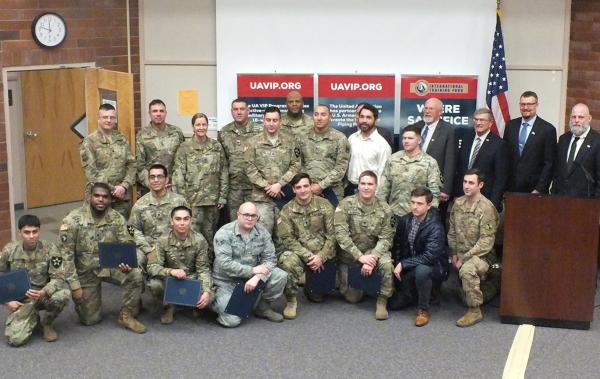 - January 30, 2019 /PressCable/ —
The United Association Veterans in Piping Program Joint Base-Lewis McChord Welding Class 16 and HVAC-R Class 15, held a combined graduation ceremony to honor transitioning active-duty military service members, who are set to begin a new career when they return to civilian life.
On Jan. 24 at the JBLM Stone Education Center, 15 transitioning active-duty military service members – five students from Welding Class 16 and 10 students from HVAC-R Class 15 – officially graduated from the UA VIP Program. The 18-week career training program equips members with basic piping industry skills and guaranteed jobs with UA signatory contractors in an agreed upon geographical area once they transition out of the armed forces. This helps alleviate the stress faced by those in the armed forces, who oftentimes have trouble finding employment when they return to civilian life.
"I'm really excited to be headed to UA Local 290 in Portland," said Army Specialist Andrew Bradley, a member of Welding Class 16. "For me, I'm from Portland, Oregon originally, so it's a pretty sweet deal!"
Bradley enjoys working with his hands. He was the first member of Welding Class 16 to earn a UA100, UA21 a GTAW welding certification and credited the instructors for being knowledgeable about the trade.
"Some of the things I like about the VIP program are getting to work and build things with my hands," Bradley said. "My instructors have so much knowledge about the trade and share tips with myself and the other students."
"This class has been great and every student has had an exceptionally great attitude," said JBLM VIP Welding Lead Instructor Kris McAferty. "The students have earned welding certifications such as the UA100 and the UA21."
Both UA VIP JBLM classes taught their participants valuable industry skillsets, providing industry-leading OSHA safety certifications and allowed students to gain specific trade certifications. For members of Welding Class 16, UA welding certifications help them advance their careers and keep them employed. Similarly, members of HVAC-R Class 15 earned heating, air conditioning, ventilation and refrigeration industry recognized certifications required in their new field to perform the work.
Those who graduate from the program receive more than just an education and new career skillset. They are guaranteed a job with a UA signatory contractor, which pays them livable wages and provides them with excellent health insurance and retirement plans. Livable wages and excellent benefits allow them to concentrate on their new career because they are able to provide for themselves and their family.
"As HVAC-R Class 15 graduates, the ten students are eager to start a new career in the United Association and I wish them the best and a great future in their new career," said JBLM HVAC-R Instructor Dave Gibson. "I am pleased to welcome the nine Soldiers and one Airman to the UA, who are being placed across the U.S. in jobs in Washington, California, Arizona, Texas, Wisconsin, New York and Washington D.C."
Career training will not end upon graduation, as UA VIP graduates will also enter into a five-year apprenticeship program with a UA Local located in the same geographical area as their new job. As a UA apprentice, they will receive additional hands-on training and classroom education to prepare them for life as a UA journeyman. As UA apprentices gain new skills, improve existing skills and gain experience, they also receive corresponding hourly wage increases from their employer.
"The UA has invested a great deal of time and resources into me and, I feel very lucky to have been accepted into this program," Bradley said. "I'm looking forward to growing in the trade and giving back to the Union."
UA VIP Program Administrator Mike Hazard, JBLM Garrison Commander Colonel Nicole Lucas, retired Major General Anders Aadland, UA International Representative Scott Smith, Welding VIP graduate Specialist Andrew Bradley and HVAC-R VIP graduate Sergeant Michael Ferdinando all spoke at the graduation ceremony.
The UA VIP Program currently operates nine programs at seven different military installations throughout the country. This program serves active-duty military service members of the U.S. armed forces who are planning to transition from military service. The UA VIP Program is free of charge to participants who receive career training in one of three disciplines: welding, fire sprinkler fitting or HVAC-R.
The UA VIP Program helps decrease the number of military service members that are unemployed after separating from the military and also reduces the manpower shortage in the construction industry. The shortage is a combination of the effects of an aging workforce, increased demand for workers and the lack of skill training for our youth.
For more information on this program, including participating bases, visit www.uavip.org.
Release ID: 476771