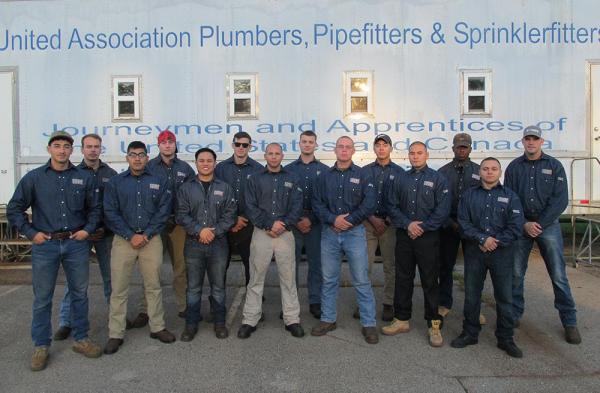 - January 8, 2020 /PressCable/ —
The United Association (UA) Veterans in Piping (VIP) Program at Camp Lejeune celebrated the graduation of 14 active-duty transitioning military service members from Camp Lejeune Welding Class 14 with an open house ceremony.
Military leadership, family members, leaders from UA Local 421 and representatives from North Carolina Community College attended the Dec. 19 open house, as students of Welding Class 14 showed off their welding skills, which they obtained during the free 18-week SkillBridge program. Upon transition from the military, VIP graduates will begin new careers in the piping industry, with direct entry into the UA's five-year apprenticeship program at an agreed upon location nationwide and guaranteed employment with a UA signatory contractor.
"The opportunities the VIP Welding program provides to active-duty military service members are absolutely invaluable," said Marine Sergeant Micah Brown-Lewis, who graduated from Welding Class 14. "Regardless of your work experience and while serving, Veterans In Piping will teach you a skill that will always be in demand and will also guarantee you a position as an apprentice in the United Association."
The UA's five-year apprenticeship program will provide the UA VIP graduates with additional hands-on training and classroom education, as they work toward their goal of becoming a UA journeyman. As they gain new skills, improve existing skills and gain experience, UA apprentices will also receive corresponding hourly wage increases from their employer, which is in addition to the excellent health insurance and great retirement benefits, such as a 401k plan and a pension.
Unlike some of their fellow active-duty transitioning military service members, the men and women who successfully complete the UA VIP Program will not have to face major stress when transitioning out of the service. With their futures already planned, they will not have to worry about finding a job, as they are guaranteed a job which pays well and provides good benefits.
"UA VIP really helps relieve the stress of transitioning from active-duty back into the civilian world," added Brown-Lewis.
Besides facing all the normal challenges of learning a new skillset, students of Welding Class 14 actually helped move the program into a permanent location, which impressed Camp Lejeune Welding Instructor Dave Porter.
"In addition to learning the new skill sets that we have to teach them, this group of Marines carried the added load of helping the program move from the welding trailers to the new weld shop, and I am so impressed how they just took it in stride," he said.
The UA VIP Program currently operates nine programs at seven different military installations throughout the country. This program serves active-duty military service members of the U.S. armed forces who are planning to transition from military service. The UA VIP Program is free of charge to participants who receive career training in one of three disciplines: welding, fire sprinkler fitting or HVAC-R.
The UA VIP Program helps decrease the number of military service members that are unemployed after separating from the military and also reduces the manpower shortage in the construction industry. The shortage is a combination of the effects of an aging workforce, increased demand for workers and the lack of skill training for our youth.
To learn more about the UA VIP Program, including participating bases, visit www.uavip.org.
Release ID: 88941554