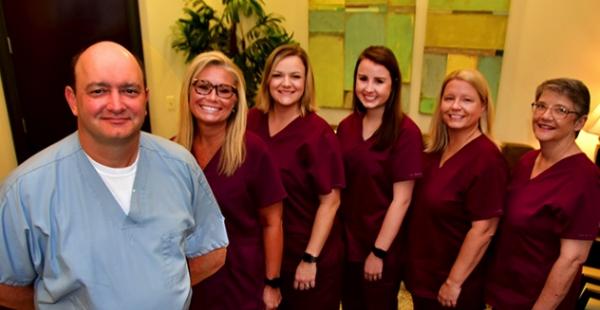 - July 21, 2021 /PressCable/ —
Blankenship Dental, a family-oriented dental clinic based in Northport, just across the river from Tuscaloosa, Alabama, has launched a new pandemic-safe practice standard. Maintaining the utmost level of care with regards to disinfection, cleanliness, face mask use and social distancing, the practice is welcoming back patients with a primary focus on safety.
More details can be found at https://www.blankenshipdental.com
The launch of their new practice standard coincides with the latest advice from the US Federal Government and the CDC which is that social distancing behaviors should still be observed, with the global risk from aggressive new Covid-19 variants, like the Delta variant, remaining high.
As such, Blankenship Dental is committed to providing a zero-infection and zero-transmission zone by upholding the latest in best practice.
Unfortunately, although the pandemic continues, the clinic understands that other health concerns don't stop and they encourage their usual patients within the Northport and Tuscaloosa communities to schedule an appointment for preventative or restorative care.
Given that numerous scientific studies have linked poor dental health and gum disease to heart disease, poor brain health, diabetes, respiratory disease and a host of other chronic conditions, Blankenship Dental believe that maintaining good dental health is imperative, even with the ongoing health concerns regarding the pandemic.
Therefore, the practice continues to offer routine dental exams and checkups, with the service including a comprehensive clean, early detection x-rays to search for any cavities or tooth decay and the application of fluoride treatments and sealants to prevent future decay.
In the case of more severe problems, Blankenship Dental is equipped to provide a range of restorative treatments including crowns, bridges and even full veneers.
For any inflammation of the gums and bone, the expert dentists and dental hygienists at the clinic can also provide gross scaling services and periodontal cleanings.
Blankenship Dental was founded by Dr. Blankenship, an expert dentist who received his doctoral degree in Dental Medicine from the University of Alabama and who has over 20 years of experience serving the community.
A spokesperson for the dentist said, "Blankenship Dental is focused on safety procedures which protect you, and us, from the Covid virus. You can visit us without worry. We are on full alert to make sure that all steps of our procedures are focused on safety first."
More information is available at https://www.blankenshipdental.com
Release ID: 89037282