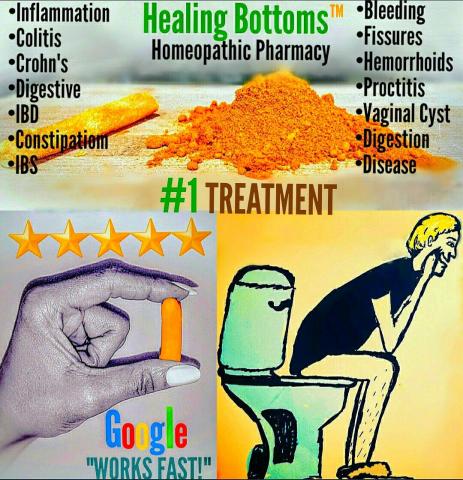 - April 23, 2021 /PressCable/ —
Healing Bottoms, homeopathic pharmacists based in Merrillville, IN, have launched a Turmeric Suppository Treatment, offering an effective, all-natural, anti-inflammatory solution for those suffering from conditions including anal fissures and ulcerative colitis.
To find out more visit https://www.healingbottoms.com/store/p1
The launch of Healing Bottom's new turmeric suppository provides customers with an anti-fungal, anti-viral and antiseptic treatment to help restore damaged tissue in the anal canal.
Anal fissures are tears or ulcers that develop in the lining of the large intestine, causing symptoms such as pain or bleeding when passing stools. This may be due to factors including constipation, persistent diarrhea, inflammatory bowel disease or childbirth. Turmeric, and its active ingredient, curcumin, is known for its ability to combat oxidation which can lead to chronic inflammation.
Healing Bottom's new turmeric treatment is a hand-blended, heat-prepped and non-toxic liquid suppository, specially formulated to help rebuild damaged cell and colon tissue.
The launch provides customers with a swift-acting formula, shown to treat the symptoms of anal fissures within 48 hours of use. Turmeric suppositories can also help reduce the swelling of internal hemorrhoids, bowel ulcers and polyps as well as treat Proctitis, Crohn's and Diverticulitis.
Healing Bottoms is a holistic pharmacy with headquarters in Merrillville, IN. The dedicated team of technicians and researchers seek to provide customers with an all-natural alternative to the many synthetic and toxic medicines on the market today. The company now have a global customer base through partnerships with Walmart, Amazon and Medical Practitioner partners across the world.
According to one satisfied customer, "This product literally saved my bottom after an internal hemorrhoid post banding blood clot. The pain was excruciating and no other over the counter product worked. After using the first suppository overnight there was a huge improvement and within 24 hours I was off the painkillers. 10 days later I am virtually pain-free. This product is amazing."
Through the launch of the Turmeric Suppositories, Healing Bottoms continue to expand their commitment to all-natural, alternative medical solutions. For more information visit https://www.healingbottoms.com/store/p1
Release ID: 89003436