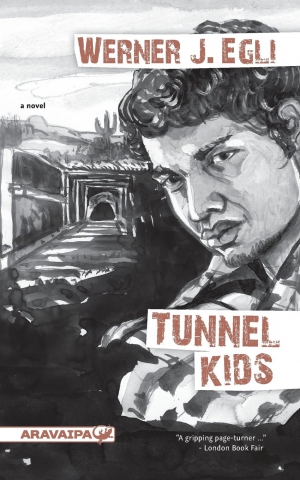 - May 13, 2017 /PressCable/ —
Set in the mid-1990's, Tunnel Kids is about a Tzotzil boy from Chiapas, who sets out through Mexico to the two cities of Nogales separated by the U.S.-Mexico border in Arizona and Sonora. Leaving his childhood behind, the road he follows turns into a nightmare, leading him to the tunnels that harbor kids like Santiago, most of them without a future – but still with a dream.
"Composed in beautiful, sensual, and lyrical language, Tunnel Kids by Werner J. Egli is an engaging story of Santiago Molina, a fifteen-year-old boy who leaves his small village near San Cristobal de las Casas and travels to Mexico City to start a new life." says Romauld Dzemo, San Francisco Book Review. "Tunnel Kids is a wonderful story, told in a powerful, clear, and exciting voice." The full review can be read HERE.
Author Wernet Egli said ""I wrote Tunnel Kids after I came to the US and experienced a great nation built by people who left their homelands in hope of a better life."
"Books like Tunnel Kids are especially important right now as immigration to the United States is becoming more of a flash point in political discourse and politics. Stories like this remind us that most of the immigrants coming to the US are seeking safety and a better life, not a free ride" says Heidi Komlofske-Rojek, publisher of the San Francisco Book Review.
Find more information about Tunnel Kids HERE.
Werner J. Egli was born in Lucerne in 1943. From a young age, he traveled all over the world, preferably through the USA, where he also lived for a long time. Egli practiced various professions before he began to write. He has received several awards for his books. Werner Egli now lives as a freelance writer in the USA, Freudenstadt (Germany) and Zurich.
San Francisco Book Review is a part of the City Book Review company and publishes more than 200 reviews a month in more than 40 genres. City Book Review has four review outlets, San Francisco, Manhattan, and Seattle Book Reviews, and Kids' BookBuzz. They also license three other publications, San Diego, Portland, and Tulsa Book Reviews. Independent authors are encouraged to check out all of the publications for review and marketing help and guidelines. Authors interested in having their books reviewed can visit the book submission guidelines page for City Book Review. Find more book reviews at San Francisco Book Review.
Release ID: 199222