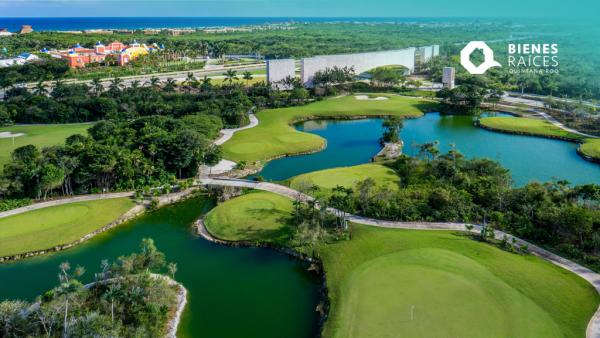 - February 12, 2022 /PressCable/ —
The Riviera Maya investment property experts are currently promoting the world-class leisure complex. The latest luxury opportunity is ideal for investors, retirees, or people looking for a vacation property in the iconic region of Quintana Roo, Mexico.
More information is available at Tulum Country Club by Bahía Príncipe Residences
Located just over 70 km from Cancun, between Tulum and Playa del Carmen, this luxury investment complex balances pioneering technology with respect for the natural environment. The Tulum Country Club includes 120 residential lots surrounding a common area with 24/7 security. Additionally, the club is home to one of the most prestigious golf courses in Mexico, showcasing 27 holes and hosting international PGA tournaments.
10 reasons to invest in Riviera Maya
By combining avant-garde technology and world-class vacation properties, the complex represents the Mexican tourism industry's movement towards sustainability. Situated at the southernmost point of the Riviera Maya, this location offers prospective buyers and investors many options by way of natural wonders such as the nearby cenotes and archaeological sites.
Moreover, the Cancun airport and ongoing construction of the Mayan train project mean that this area is more accessible than ever. Since 2016, Tulum has been recognized as one of the hottest locations for international tourism, a change that has flooded the area with foreign investment. In 2018, over 2 million people visited Tulum and research shows that this number is only going to increase going forward.
What will the Mayan Train be like?
As such, there is more demand than ever for luxury tourist accommodation. Given that the local environment is a natural paradise, much of this demand has been focused on constructing sustainable properties and tourist facilities.
The team of fully licensed realtors at Bienes Raíces Quintana Roo specializes in protecting the assets of their investors by finding prime opportunities that guarantee maximum ROI. Over the past 7 years, the detail-oriented, future-focused operation has helped people identify and invest in unique development and vacation properties throughout the Riviera Maya.
How to invest in real estate in Mexico? Riviera Maya
A spokesperson for the company said, "[Our mission is to] guide you to invest in the properties of your dreams, protecting your assets with solid information, transparency, and ethics."
More information can be found by visiting Tulum Country Club by Bahía Príncipe Residences or by calling +52-961-138-4865.
You could be interested to invest in lots in Tulum Country Club ¡Let´s GO!
RELATED TOPICS
WHY IS INTERESTING INVEST IN QUINTANA ROO
RIVIERA MAYA INVESTMENT
Contact US
Movil +52 1 961 138 48 65
Office +52 984 147 37 77
www.bienesraicesquintanaroo.mx
#Inversión #TulumCountryClub #DepartamentosenventaTulumCountryClub #ApartmentsforsaleTulumCountryClub #HouseforsaleTulumCountryClub #CasasenventaTulumCountryClub #TerrenosenventaTulumCountryClub #LotsforsaleTulumCountryClub #AgenciaInmobiliariaAkumal #BienesRaícesAkumal #AkumalRealEstate #InvertirenAkumal #InvestinAkumal #RealtorAkumal #JoyParadise #InvestinParadise
Release ID: 89063900