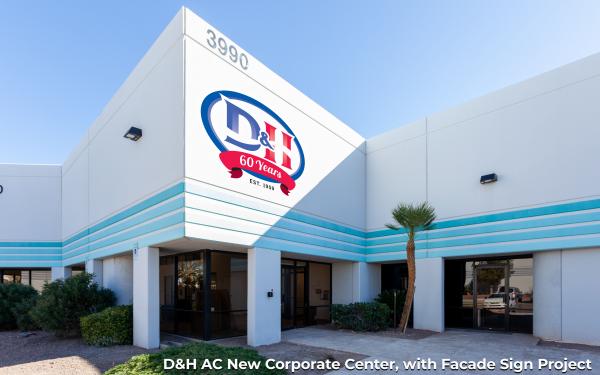 - June 11, 2020 /PressCable/ —
Tucson, AZ – June 9, 2020 – The sudden heat wave that has overtaken Tucson in the past few weeks is already testing the summer-readiness of residential air conditioning equipment for what promises to be a particularly hot season.
The heat wave has taken Tucsonans by surprise. A flurry of emergency repair calls is flooding the hotlines of local HVAC contractors as A/C system break. According to the Customer Service Department of D&H Air Conditioning (DandHAC.com), one of the largest air conditioning repair service specialists in Tucson, "the jump in service calls has also been dramatic with a large number of failures, especially in older A/C units."
The rapid rise in temperatures has placed HVAC systems under brutal stress. "This is especially true of older air conditioners that barely survived last summer", said Phil Robles, General Manager of D&H AC.
Worse, the volume of incoming emergency repair calls raises a critical issue: delays in service. Residents may have to wait longer to enjoy a cool home again as HVAC contractors are forced to extend scheduling well beyond 24 hours due to technical staff being overbooked.
This is where size matters. Larger HVAC companies such as D&H Air Conditioning have the wherewithal necessary to staff up quickly. "Our hiring ramp-up starts from late March to June," stated Phil Robles. "This enables D&H to respond readily to the predictable surge in emergency calls, and still cover our usual scheduled maintenance appointments".
Not so for smaller HVAC operators, commonly dubbed "2-Chucks-and-a-Truck" in the industry. Unable to ramp up their hiring, they can simply can't service their clients on time.
According to Brett Wright, President of D&H AC: "This is one of the many reasons the supply side of the HVAC industry is undergoing a gradual long-term change. Air conditioner manufacturers prefer to deal with larger HVAC contractors because brand names are directly impacted in consumers' minds by both quality and consistency of local service."
Brett added: "The larger A/C specialists have more capital, a better organization, and stronger staff training capabilities than smaller operations. Both customers and brands stand to benefit from size."
In other areas of Arizona, huge HVAC companies such as Phoenix-based Parker & Sons, confirm the trend towards a consolidation at the local level. "There is little doubt that small outfits are disappearing as HVAC systems become increasingly sophisticated," said Josh Kelly, a well-known consultant to the industry. "HVAC brands demand that their distributors remain up-to-date in their technical knowledge of the systems, and able to represent their brand well under any market conditions."
For Tucsonans affected by growing delays in service scheduling, this is a favorable long-term trend: faster and more capable technical service is critical when temperatures climb into triple-digit territory. For senior citizens, receiving fast service when their air conditioner breaks down is not an option. Speed of service is mission-critical down here in Southern Arizona.
About D&H AC:
D&H AC services all makes and models of air conditioning systems of any age. D&H employs NATE-certified HVAC technicians to ensure excellence in quality of service.
In 2019 D&H AC celebrated a special anniversary: its 60th year of continuous operations as a prominent air conditioning repair service company in Tucson and Southern Arizona.
Year 2020 marks the opening of D&H AC's new corporate center and service facility in the south area of Tucson, near I-10 and I-19. The new facility houses a leading-edge HVAC training center dedicated to keeping NATE-certified technicians up-to-date in their knowledge of systems, procedures and interaction with customers.
Press Contact:
Phil Robles, GM
(520) 408-2665
D&H AC Addresses:
Service Center 1: 3629 N Oracle Rd, Tucson AZ 85705
Corporate Center: 3990 S Evans Blvd, Tucson AZ 85714
Release ID: 88962489